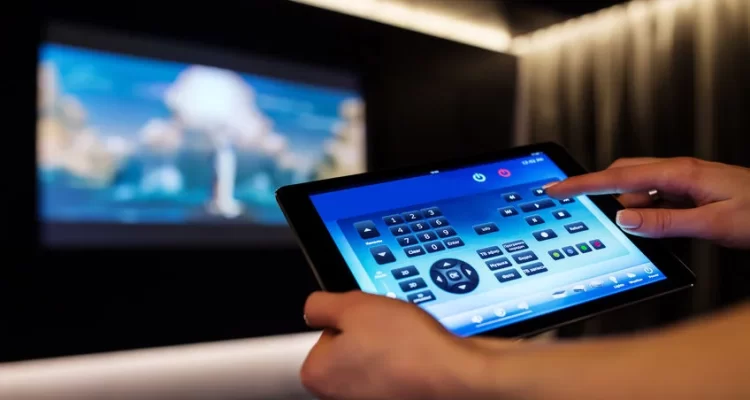 5 Benefits of Installing a Dedicated Home Theatre
With life getting so chaotic and busy each passing day, rarely people like the ruckus of booking the tickets, finding a parking space and spending odd hours at the cinema. To cut down the clutter, nowadays, staying at home and spending time with family while watching stuff on a personal home theatre screen is just the way to do it!
We, at Lumina Screens, love designing your screens and we find it even more amazing when you get a whole cinema-like experience at the comfort of your home. So here are the top five benefits to having your personal dedicated home theatre.
1. Video games go to an all-new level
Watching that favorite TV star come alive on your big screen or getting excited to every stroke of your much-loved game is just alright, but with home theatres, gaming goes to an all-new level. Playing video games become nothing short of an immersive experience, with a crisp larger than life imagery and realistic sound. So whether you're the Lara Croft or Commander Shepard, if you play it on your home theatre screen, you never want to go back!
2. Binge-watching your favorite series
Home entertainment doesn't just mean movies anymore. Netflix, Prime, and other streaming services offer incredible content to let us soak into drama forever. Indie documentaries, must-watch television series, and original content films are now added to the mix to offer something to everyone.
3. It's all about sounds and acoustics
When you design a home theatre, you have to start thinking about the sounds and acoustics funda early on – this makes a very important part of having the best viewing experience. Your space, speaker size, furniture arrangement – all contribute to how sounds behave in a room. Unlike anywhere else, a carefully created home theatre, won't give you variable sound effects or a scratchy experience.
4. You can choose your own projection screen
The fun part is just this! While in a home theatre, you can choose your own décor, save yourself from standing in the queue of buying overpriced popcorns, it doesn't just end there. Having a dedicated home theatre allows you to choose from a range of projection screen options best suited to your need. Lumina Screens through its myriad options offers its viewers a better movie viewing experience and ensures high-performance efficiency. Right from Color Pro – White and Grey screens to acoustic transparent projection screens, we have got you covered.
5. Play-in with technology
Home automation and entertainment technology have turned easy and fun to use in a true sense. Integration with digital advances such as online streaming and smart home controls have taken home theatres way ahead than it was. For the technophile in all of us, a home theatre makes way for technology and entertainment to give a one-of-a-kind experience.