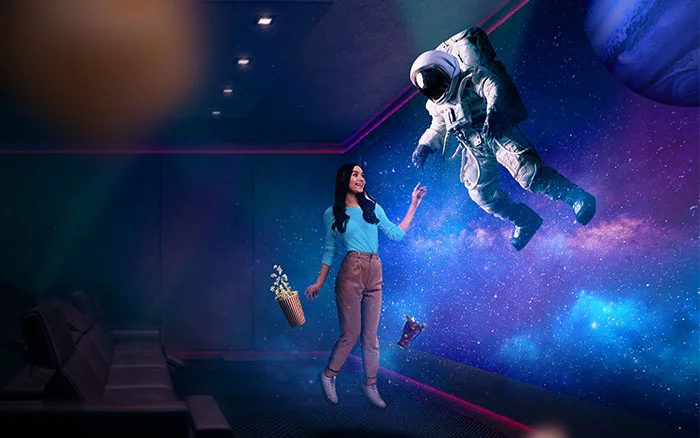 Are you looking forward to upgrading your office conference room or want to create the ultimate home theater space? then a top-quality projector screen should be an essential part of your toolkit. But what exactly you should be looking forward in a projector screen? Understanding your options is the first step in selecting the right screen for the usage. This blog will help you make the apt choice. Let's get started. 
The first step to choosing the right Projector Screen that best suits your particular needs or application is to choose the type of screen you wish to use. From the mounting style to the method of the screens retraction, you'll want to take everything into consideration when choosing your screen type. The permanency of your screen type is also an important thing to look at.
Another simple way to narrow your choices is by the type of functionality or retraction method you'd like your screen to have. You can choose from motorized Electric projector screens, which descend and retract with the push of a button. Manual pull-down projector screens extend and retract by a simple pull of the screens handle, much like a standard window shade. Fixed Frame projector screens are commonly used for solutions requiring a permanent wall-mounted solution, such as a dedicated home theatre or auditorium.
Generally, if you would like a permanent installation, then the Electric, Fixed or Manual wall and ceiling mounted projection screens are your best choice.
After you've decided on the type and mechanism of your ideal screen, you'll need to select the best projector screen fabric for the job. Different screen fabrics handle different applications and environments, their effectiveness depends on several factors, including the resolution of the media used, the lighting and acoustic conditions and the viewing angle of the audience. 
The most important place to start when selecting a screen fabric, are with the Gain (Screen Brightness) and Viewing Angle of the fabric. There is a lot to know about each and how they affect each other (as gain increases viewing angle usually decreases). Having a basic understanding of these features prior to making your choice of a projector screen fabric, will help you make the most out of your equipment within the constraints of your environment.
Gain: is a measurement describing the light reflectivity of fabric, when the measurement is taken for light targeted and reflected perpendicular to the screen. For example, a screen gain of 1.0 means all the light directed at the screen reflects back with the same brightness. Gain greater than 1.0 means the projection screen fabric increases the brightness of the projected image, while gain less than 1.0 means the image produced is not as bright.
Viewing Angle: is a measurement describing the maximum angle from the center of the screen at which you can still see a quality image.
Fabric Colour: The color of your screen fabric greatly influences the contrast of your final projected image. White screens are the industry standard due to brightness, while grey screens are better at handling darker tones. 
Acoustic Transparency: Another popular feature of projection screen fabrics is acoustic transparency. Acoustic transparency is the ability of the screen to allow sound to pass through with little interference. This is especially important in setups where speakers are placed behind the screen, such as home theatres and auditoriums. 
Once you've decided on the type of screen you are using and the type of fabric you want to use, selecting the size or aspect ratio of your screen should be next on the list of decisions to make. There are numerous standard formats available, including the following:
HDTV 16:9 FORMAT: HDTV format projector screens have a width to height ratio of 16:9. HDTV screens are the optimal format for home theatre, offering the best matched fit for widescreen viewing and is the international standard format of HDTV. This HDTV 16:9 aspect ratio matches up with projectors that offer a native 4K UHD (3840 x 2160) resolution, 1080p HD (1920 x 1080) resolution and 720p HD (1280 x 720) resolution. Wider options include Letterbox and Widescreen; not all but a few of our screens are available in these sizes.
WIDESCREEN PC 16:10 FORMAT: This format has grown increasingly common in recent years with the rise of widescreen PCs. The aspect ratio for these PCs is usually around 16:10, with some variation. This 16:10 aspect ratio matches up with projectors that offer a native WXGA (1280 x 800) resolution, WSXGA+ (1680 x 1050) resolution, and WUXGA (1920×1200) resolution. If you expect to only use a Widescreen PC viewing format for your presentations or if you expect to use this format more often than others, this could be a good choice for you.
CINEMA 2.35:1 FORMAT: If you're looking more for a movie screen experience, the 2.35:1 widescreen cinema standard or anamorphic format aspect ratio is for you. Commonly used throughout the cinema as a full field-of-view format, the cinema ratio is the best choice if you are looking to create a home theatre space for viewing movies.
VIDEO 4:3 FORMAT: Video format projector screens have a width to height ratio of 4:3. The 4:3 ratio for standard television has been in use since television's origins and many computer monitors use the same aspect ratio. This 4:3 aspect ratio matches up with projectors that offer a native XGA (1024 x 768) resolution, SXGA+ (1400 x 1050) resolution, UXGA (1600×1200) resolution, and QXGA (2048 x 1536) resolution. Video Format screens are the best option if you'll be switching equally between fullscreen and widescreen viewing.