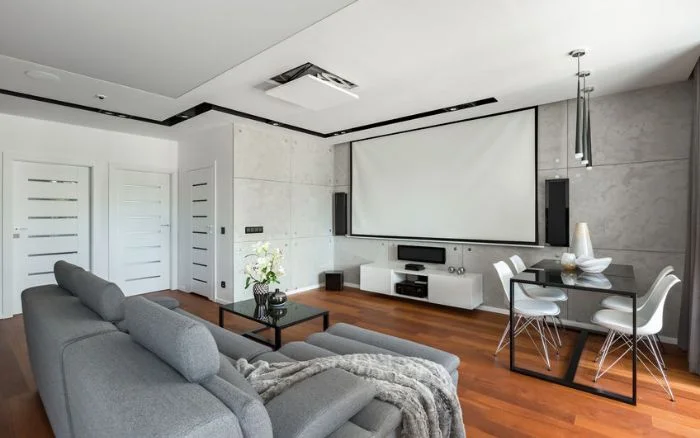 Over the last five years, the use of home theatre projection screens is gaining momentum. A large number of movie buffs are installing projection screens to replicate a cinema-like experience at the comfort of their homes. Despite its scaling popularity, many consumers still have their doubts about opting for a projection-based home theatre setup. The doubt emerges from the lack of knowledge and information about the correct way to use home projection screens. We're all aware that myths exist due to half-knowledge and often misunderstood information. In this blog, we shall bust the top myths about using home theatre projection screens.
Myth #1 
Projection screens are too big for small rooms 
Truth:  The projection size can be easily adjusted to suit the space.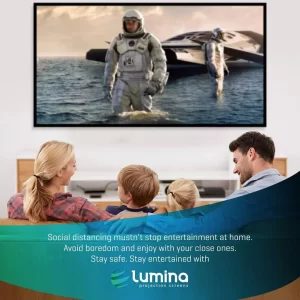 Projection sizes can be altered according to your requirement. With only a 3-meter distance, you can easily create a 100″ screen. Most modern projectors are capable of viewing screen sizes varying from 60″ to more than 100″. We can safely say that this myth is almost irrelevant.
Myth #2
Projection screens demand a darkened room 
Truth: Most projection screens come with ambient light rejecting technology.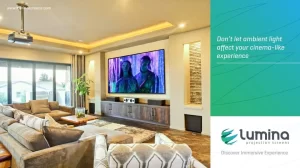 Gone are the times when you were required to shut out all-natural and electrical light sources to watch projected images at home. Projection screens bring you vibrant and realistic images and videos with its ambient light rejecting features.
Myth #3
The installation and usage of the projection screen is difficult 
Truth: projection screens are easy to use and operate 
The fact is using a projection screen is as simple as using a TV. You only need to set up, fine-tune and calibrate once, the rest is the same. Home cinema projectors can be set up anywhere in a room and can easily connect to your source devices. Fixed frame projection screens also hide the wires and clutter giving it a neater and more proper feel to your home theatre setup.
Myth #4
Maintaining a home theatre setup is expensive 
Truth: An expensive viewpoint is a thing of the past.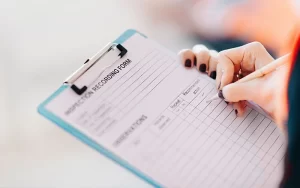 Many consumers are misled into believing that projector & projection screens have a limited lifespan and need regular replacement. This is just not real! If you get a good quality projection screen with modern features, it can last you a long time becoming only a one-time investment for you.
Myth #5 
TV picture quality is better than projection screens 
Truth: projection screens are less stressful on the eyes.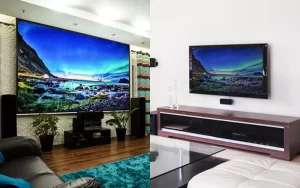 Firstly, comparing the projection screen and television does not make much sense. Both technologies have varying functioning principles. If you are a cinema lover or a gaming fanatic who loves that big-screen surround-sound experience, then a projection screen is your best choice. A projector-based setup can bring that theatre experience in your home. Also, watching from a projection screen causes lesser strain on the eyes as the light reflection is not as strong as a flat-panel television screen.
Conclusion
The evolving and advancing technology often brings along numerous myths with misbegotten information. As a buyer, you must look at these myths critically and try to find the source until it ultimately leads you to the truth. If you still can't make up your mind, then just ask for our assistance. We at Lumina Screens are readily available to answer your queries, clear doubts, and help you buy the right projection screen for your ideal home theatre setup.