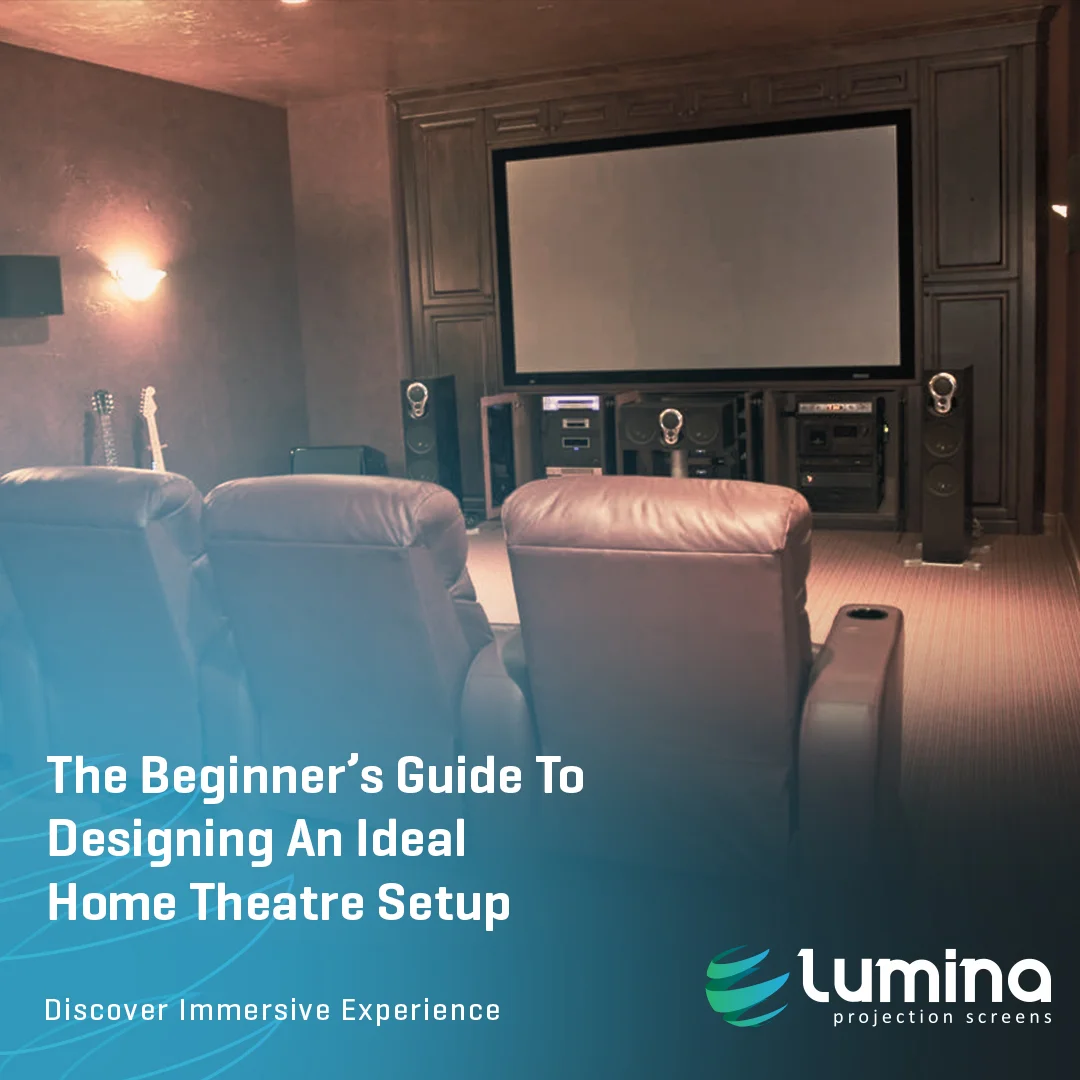 Is it your first time buying a home theatre? We understand all the confusion, excitement, and hassle you must be going through to make sure you get the best one home. 
We talk a lot about establishing your home theatre setup, designing ideas, creating a theatre-like experience at home on our blog. However, we understand how daunting it could be to cut through the scattered information when you're a beginner. 
If that's what your challenge looks like too, you've arrived at the right place!
This blog will help you understand:
– The main components of a home theatre setup
– Home theatre wiring
– Lighting
– Some dos & don'ts
Introduction to Home Theatre Components
Projector Screen, TV
A projection screen or television, whichever you opt for, is paid the highest attention by the buyers of a home theatre. The obvious reason being, it is the ultimate medium of that theatre experience we crave for.
The direct exposure of blue light through smart TVs is dangerous for your eyesight. Hence, we only recommend opting for a premium home theatre projection screen that not just provides you an immersive experience but also a safe, secure and healthy viewing experience.
In addition to this, our Acoustically Transparent Screens also have the provision to place the speakers behind the screen so that your setup looks neat and tidy.
Home Theatre Receiver
The second most important component of your home theatre setup!  A receiver is the one that receives, processes, and transmits the sound to your projection screen and speakers.
Make sure to buy one that at least has five channels and one subwoofer output to connect with your home theatre system. Having said that, remember that an AV receiver with 100s of features is not equal to the best receiver. What matters here is a good quality receiver with important features and provisions that you think you will need.
Speakers
One of the most loved components of home theatre setup, isn't it?
Here are some of the speaker types you can explore:
Bookshelf speakers

In-wall & in-ceiling speakers

Stereo system

Surround sound system
Amongst this, the stereo and the surround sound system are the most popular ones. If you're wondering how they exactly function, find all your answers here – Stereo vs Surround, which audio system is better for you?
We hope this brief introduction to the components helps you to some extent. To dig deeper, you can check out our blog which explains all of them in a much detailed manner here.
Once you're through the components, you would need to understand a way to connect them correctly, i.e the wiring part.
Home Theatre Wiring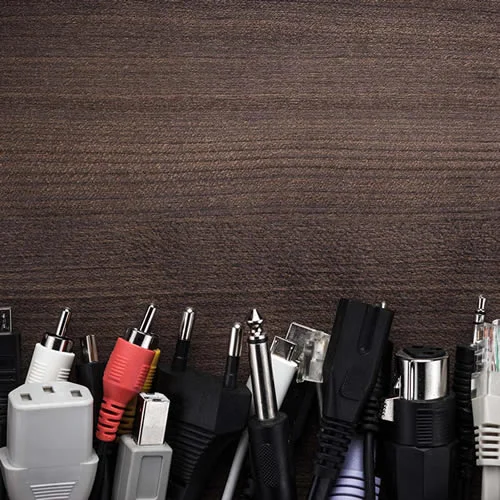 These wires will either be for the audio or the video part. Here are some of the most crucial ones you're going to need while setting up your home theatre for the first time.
Audio & video cables:
HDMI (High Definition Multimedia Interface)
Audio only cables:
Optical Audio

Stereo RCA

Coaxial Audio 

Multi-channel RCA

Mini Stereo Jack
Video only cables:
DVI (Digital Video Interface)

Component

Composite

VGA
As much as you would need to take care of connecting them properly, do also look into placing them carefully so that everyone in the room stays from tripping over them.
Looking to understand the detailed version of this section? Check out our blog written exclusively on Home Theatre Wiring.
Lighting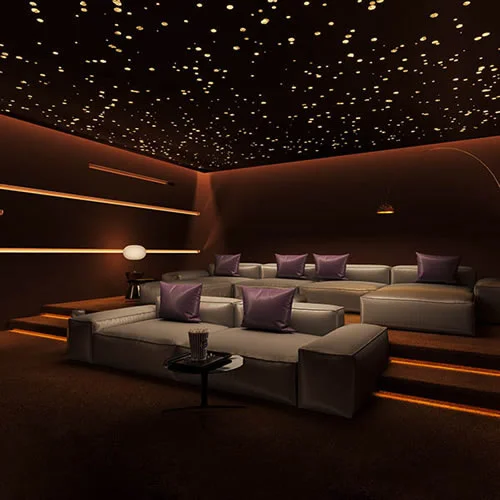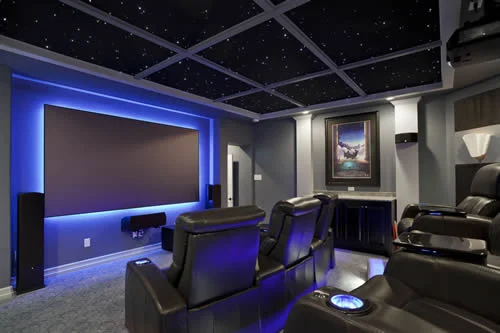 Having observed so many wonderful lighting ideas, it tends to get overwhelming while deciding which one we should go for.
So here are some of the lighting types and ideas that will truly make your home theatre setup stand out:
Overhead lighting: It lights up your room bright enough so that everyone can see all the elements in the room clearly. You can definitely switch it off while the show is on, but for every other time, this is must-have lighting.
Sconces: They complement your setup beautifully by giving it an elegant room with their not-so-bright lighting.
Fiber-optic lighting: Looking to make the ceiling of the room interesting? Fiber-optic lighting looks just perfect with it while other lights are off.
Seat-side lamps: 
If you need light support around your seating area, you can consider installing seat-side lamps on each side of the chairs in your home theatre setup room.
Other than these, there are LED light strips, Cove lighting, LED bulbs, and such that you can use to build the lighting of your home theatre setup. 
Want to take a look at the detailed version of this information? Find it here.
Some DOs & DON'Ts
Considering all the components, wiring, lighting you need to place in your home theatre setup and the seating, make sure you choose a room that has sufficient space for all of it. 

Since this is going to be a long-term investment, before choosing any brand, do your homework i.e. research. Also, go through reviews of people on the respective website, Amazon, Flipkart, and such portals. Make an informed decision.

Keep a healthy viewing distance between the seating area and the projection screen.

Do not go along with people's definition of a dream home theatre setup. Decide what you want it to be and give your best turning that into reality.

Choose colors for your home theatre setup room wisely, be it for the walls or curtains. Colors like grey, indigo, brown, or any lighter shades will create minimum interference of the reflections throughout the watching time.
Winding up!
We hope this blog helps you kickstart your home theatre setup journey! While you're at it if there's anything you find yourself stuck on, feel free to come back to the comment section and put down your queries there. We will be happy to help!
We highly recommend you check out the blog section of our Lumina Screens where you will find answers to most of your home theatre setup designing doubts.