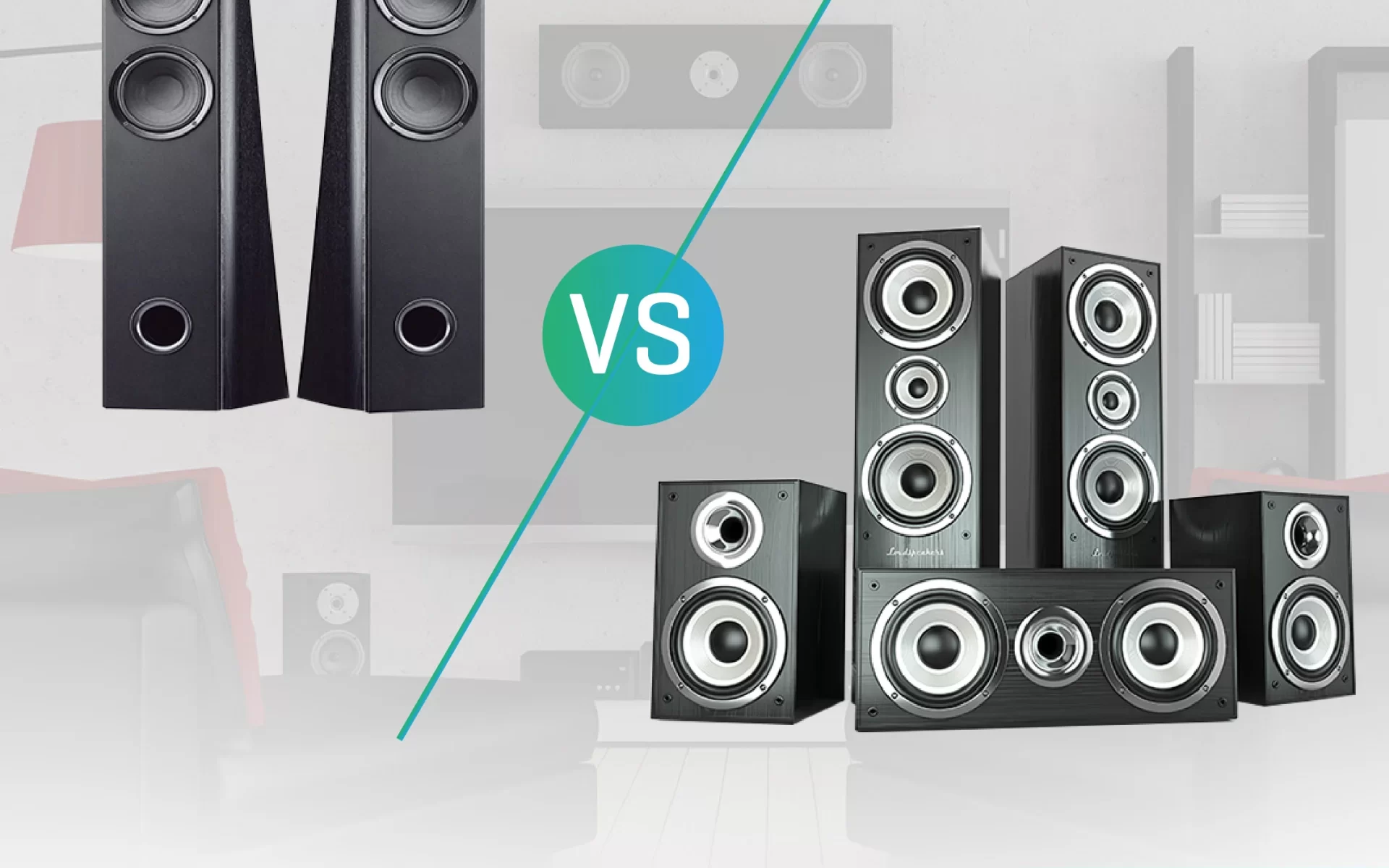 Today, everyone loves to go that extra mile with everything they do to design their dream home.
Because homes today have much more utility and meaning than just being the shelter on our heads. 
Other than the furniture, interior, sofa and crucial things like that, if there's anything that keeps people on toes is creating the perfect home-theatre setup.
Whenever you tell someone that , you're designing a home-theatre setup, the first thing that they're likely to be curious about is the 'speakers'.
And for all the right reasons. It's not a secret that speakers are one of the most important elements of the home theatre system.
If you're new to this and confused between stereo and surround sound systems, this article is for you.
Sit back and read on as we understand and help you get the best insights into the difference between Stereo and Surround Sound System.
Let's start!
Stereo systems are a set of 2 speakers which are placed on the two sides (left and right) of the home theatre. 
On the other hand, surround sound could be a set of 3 speakers or more which are placed within the room. Being said that, the surround sound systems usually come in 5 to 7 channel setups.
Ever happened to be suddenly disturbed by a baby crying in the cinema hall only to realize that the sound came from the movie itself? 
That's a surround sound system for you!
While in stereo systems, the sound is either coming from the left or right, unlike the surround systems where it could come from any corner of the room as they're spread all over.
All surround sound systems come with a subwoofer while the same is not the case with stereo systems.
Stereo speakers can be connected to mixers that allow devices to shuffle left and right speakers for dynamic sound output.
On the other hand, the audio in surround sound has to be sent through a mixer to create a sound field. This results in audio circulating through different speakers in a way that it creates an immersive experience for the audience.
Which one is better for you?
This majorly depends on what you will be using the systems for.
Now, you may or not give much thought to this part but let us tell you, this should be the very first thing to zero down on before you make the purchase.
Just knowing 'I want the best sound system' is not enough hence this step.
Now tell us, what do you look forward to doing with the audio system?
Is it to experience the theatre-like ambience at home? Or to watch your favourite shows while munching on popcorns?
Or wait, let us guess. Is it to play games with your boys?
If you were going 'Yes, Yes, Yes' throughout this question-answer round, then the Surround Sound System is what will work the best for you!
It will give you an immersive experience with its speakers having that level of sound quality and format.
However, if your answers looked like 'Umm, no, not really' to those questions, we guess you are looking to use it for playing music.
If you're into listening to streaming music, playing CDs or even better, studio recording, stereo speakers should be the choice here.
Stereo being music's standard format, it will create an incredible experience for you!
Final insights for choosing the best one!
As per what we discussed just above this point, identify your purpose of using the speakers first. 
This might create a little dilemma for you if you're setting up the home theatre for your family. Every one of you in the family can have a different purpose so here the best option would be  the Surround Sound System. Because it works well for pretty much everything.
The speaker quality check is super important. 
While researching about the quality, some of the things you must keep in mind:
Speaker's sensitivity rating
It refers to the speaker's output at 1-watt power from a distance of 1 meter. A high sensitivity speaker will need less power from the amplifier to produce volume resulting in allowing you to play it at a higher volume compared to the speaker with low sensitivity.
A premium-quality mid-range bookshelf speaker is recommended. There's an option of full-range tower speakers as well. However, many of them cut back on mid-range frequencies leading to a muddy sound and speaker dips.
Therefore, a set of bookshelf speakers paired with a subwoofer can offer you the best sound quality with a lot less distortion.
A typical living room ( 3 * 3 * 2.5m) is good enough to accommodate a 5.1 channel surround sound system.
If there is not enough space then it is better to select a 3-channel surround system that won't barge the sound on your ears.
Being said that, a large hall with a 7-channel surround system will give you that ultimate sound experience you've always dreamt of.
With Stereo Sound System, you can have bookshelf speakers as they are compact in size and yet manage to deliver high-quality sound. 
If you have a bigger place and want to go for them, then the floor-standing speaker could be a great choice.
If you have been looking for speakers for a while, you must have heard about 3D sound systems. 
You would be surprised to know that it is pretty much what your surround sound system does.
The surround sound uses a multi-channel system to produce immersive sound, 3D does the same, attempting to mimic the audio output of surround sound using only 2 speakers. 
We wouldn't really recommend them keeping in mind they don't contribute much to improve the audio quality. You can rather stick to surround systems which will any day give you a better experience.
Winding up!
I hope this article gave some direction to your hunt for a great sound system.
Understanding the difference between the options you're looking to go for is always the wise step to take and now that you've read this article, we hope you're clear on that part.
Do let us know your final decision and if anything still pops up on your mind, feel free to leave it in the comments below. We would be more than happy to help!