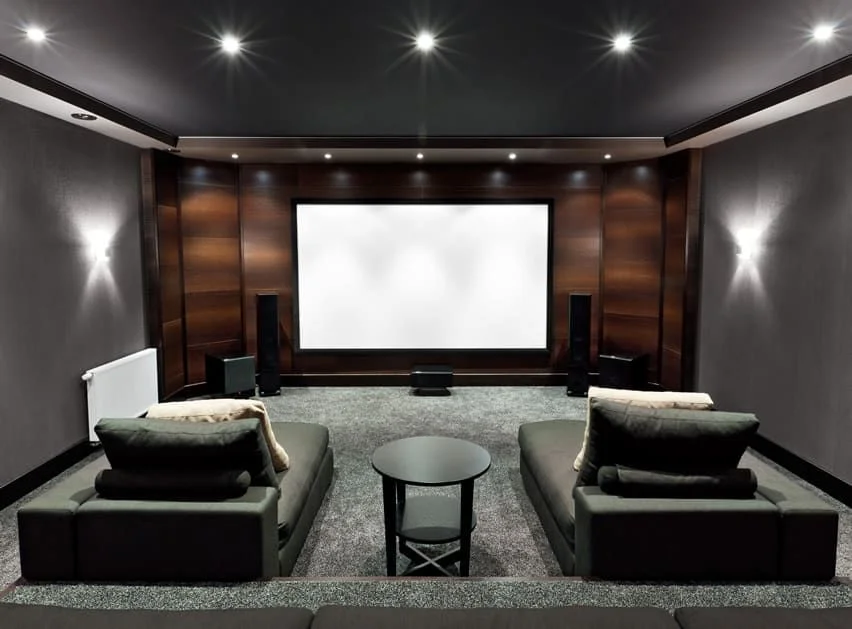 Who says investments only include stocks, money, or home?
Some investments are made for your happiness and one of them is a Home Theatre System.
If you're here today, we're sure you're looking to make that investment but not sure how to go about it.
No worries. We have you covered.
In this article, we will talk about:
All the components that make for a home theatre system!

2 important things to study before you step out to buy a home theatre system!

3 mistakes to avoid while buying the right home theatre system!
Without any further adieu, let's jump on to understanding all the components of a home theatre system in detail:
A TV or a Projector Screen
A great TV or a stunning Projector Screen is essential for the amazing home theatre system that you're planning to build. 
If you have a room that you can completely dedicate to your home theatre system, you should not go for anything but a premium home theatre projector screen.
Projector screens as compared to TVs provide –
Better and enhanced viewing experience. 

Makes the color and the light feel more real and prominent.

Ensures a high performance in terms of all the areas.

Brings a theatre-like experience at home.
Some screens allow you to place the speakers behind them which in turn gives you the freedom to keep your home theatre system room more spacious and neat.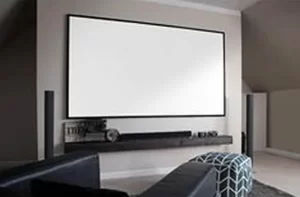 2. A home theatre receiver
Some say the AV receiver is the brain behind the entire system and some say it's the heart of the system. We say it's both, the brain and the heart as it receives, processes amplifies and then transmits the sound to your TV and speakers.
For first-time buyers, you need to have an AV receiver that has at least five channels and one subwoofer output to connect with your home theatre system.
The receivers have a built-in sound system decoder that converts the sound input into the surround system. If you're confused about going for a high or low wattage receiver, a high wattage receiver will anyway deliver a great sound quality compared to the latter one.
As a first-time buyer, you also need to understand one thing is the AV receiver with 100s of features is not always what you need. A good quality receiver with important features like 4k video compatibility with multiple numbers of audio and video outputs can also be a wise choice to go with. 
Determine what all features you wish to use and choose the one accordingly.
If you can afford to get a great quality for which you have to pay a little more amount than usual, we suggest you should go for it. The reason being that the less expensive one may have all the features and functions but it may not work as smoothly and efficiently as you envision.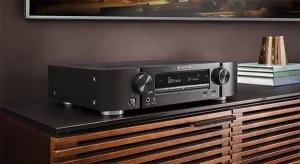 3.Speakers
The component that 'makes or breaks your home theatre experience'. Your Speakers!
While deciding this, make sure to take your time to determine your requirement specifically, budget, and space.
Types of speakers that can be paired with your home theatre system:
These are best suitable for mid-range and high-end frequencies. As the name itself suggests, bookshelf speakers are supposed to rest on a shelf, table or any other elevated platform and are designed to maximize sound in small-medium size rooms.
In-wall & in-ceiling speakers:
These speakers are positioned into a wall or a ceiling.
The ceiling speakers are budget-friendly and make a great addition to a soundbar which is long thin bar-shaped having multiple speakers embedded in it.
A stereo system is a set of 2 speakers which are positioned on two sides of the home theatre. Therefore, the sound is either coming from left or right. 
If you're planning to use the speakers for streaming music, playing CDs or recording, they would be the best choice of preference for you.
A surround sound system could be a set of 3 speakers or more that are placed all around the room. The system usually comes in a set of 5 to 7 channel setups and comes with a subwoofer.
If you're looking to have that immersive theatre-like experience while watching shows and movies or a great gaming session regularly, then nothing better than a good surround sound system for you.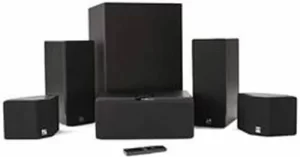 Now that you know all the components that make for a home theatre system, let us reveal the 2 things you must look into before you step out to buy them:
Analyze and determine the room in which you're going to place each of the components that we discussed above.
While evaluating the same, ask yourself –
Where do I want to keep the TV or the projector? How much space do I have for the same?
After setting up everything, how much space is left for the seating area?
As per the room, how do I want my speakers to be?
Having answers to each of these points would give you great clarity when you're actually out and selecting the devices.
If you're a first-time buyer, we're very sure that you must have a few things in respect to choosing brand, price ranges and such for the home theatre system you're planning to buy.
So, we suggest before buying, you do thorough research about these brands for speakers, home theatre screens, AV receivers and read what people are talking about each brand.
At the same time, you can read the reviews on Amazon, Flipkart about the products of the price range that suits your budget.
Don't rush into anything as everything you buy is going to be for long-term use and not for a few months.
While keeping in mind these 2 essential tips, we would also like to warn you to not commit these 3 mistakes –
Buying the wrong size TV or the Projector Screen just because you're fascinated by a giant screen you saw at a friend's house. The very reason we already suggested to keep the room size in mind.

Buying the wrong type of speakers. Know your requirements specifically and then only make this decision. You won't enjoy the stereo sound system if you aimed to have an immersive sound experience.

Buying less AV receivers. As much as it is important to select a great pair of speakers, an AV speaker that can receive and process them amazingly is equally important. 
Winding up!
We understand, the process of buying a home theatre system is a daunting task, especially if you're doing it all for the very first time.
Hopefully, we could shed some light on all important factors to make this one a little easier for you. If you still find yourself scratching your head over anything, let us know how we can help by putting those questions in the comments below!
Feel free to share this article with somebody you know is searching for such insights!