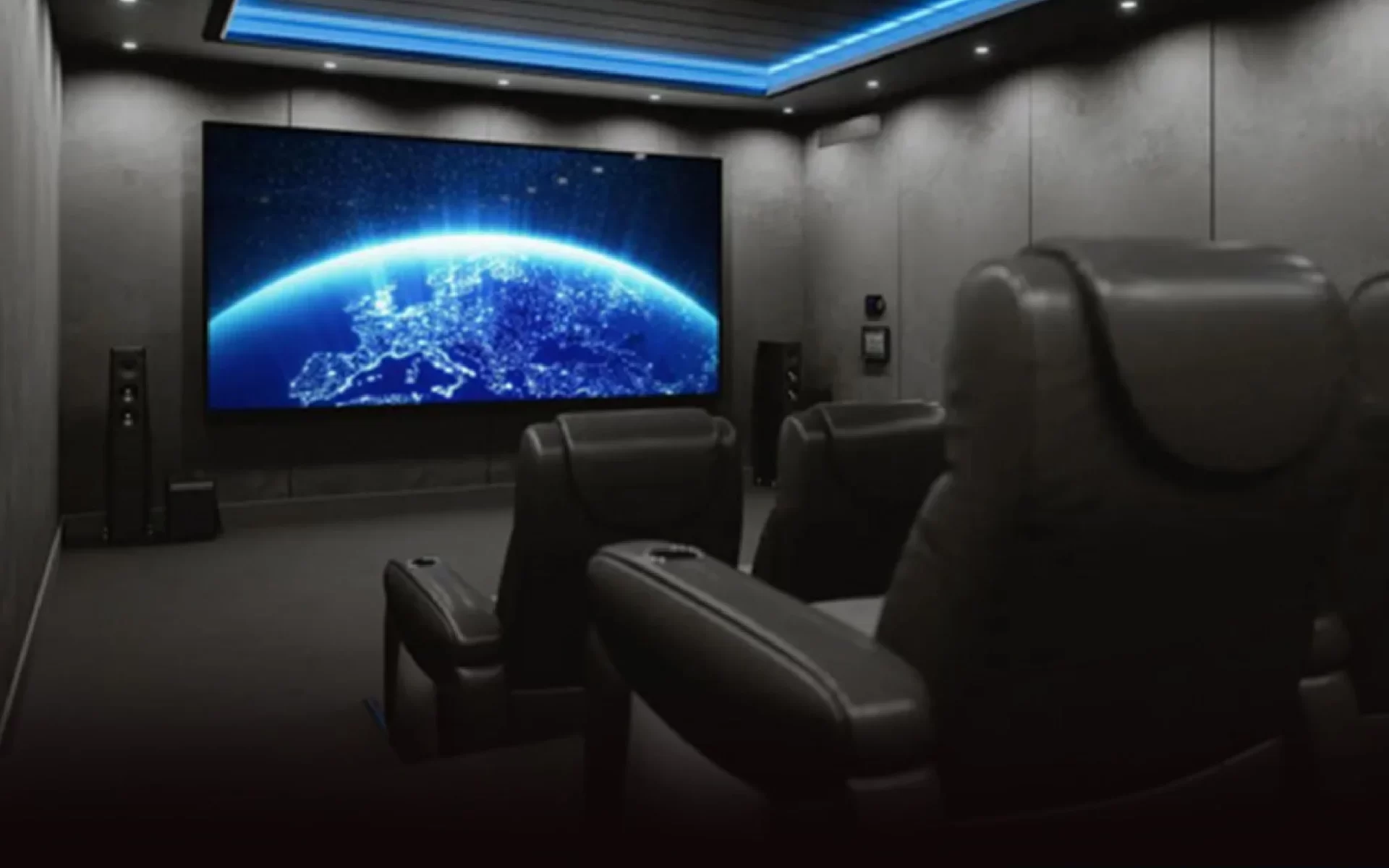 Done with your home theater setup?
No, not yet!
Not without the Lighting.
You might be done with the speakers, systems, screen, and everything else concerning the home theater setup.
But until you get the lighting done, the room is not ready yet.
So before you start calling your friends and relatives over for a movie marathon, let's get this done.
The better the lighting, the better is your experience. 
Although it is recommended to decide the lighting for your home theater in the initial phase itself, it's never too late to pay attention to this crucial part of your home theater setup.
Why do we insist so much on that 'perfect lighting'?
The reason is simple. It sets the mood for the best viewing experience.
You might be wondering that shouldn't your home theater room be completely dark?
Yes, but only while watching, right?
You need light while cleaning the room, adjusting the setup and all the other times when you're yet to start the movie/show and you need the light to be able to move around.
Before you get too overwhelmed with the insights, let us promise you that it's no rocket science. 
This article will help you understand –
The kind of lightings you can use for your home theater setup room

4 things to keep in mind before you get started with the lighting set up
Let's start.
Overhead Lighting
This one would be the 'must have' light in your home theater room.
Overhead lighting completely lights up the room to make everything and everyone in the room visible clearly.
This, obviously, will be used when you're not watching something on your home theater or during the breaks.
However, due to the fact it is very bright, while watching something, it should be completely turned off or be kept at the lowest dim possible.
The overhead lighting could be any of these –
Recessed Lighting Fixture

Mounted Light Fixture

Hanging Light Fixture
You can determine which one suits you the best and get the one accordingly.
Sconces
While Overhead lighting acts more as an 'essential lighting' for your home theater, Sconces play the role of complementary lighting.
They are not too bright, are elegant and make for a beautiful addition to a home theater room. The lighting is not direct therefore you can keep them on even while watching something on your home theater.
Sconces are the light type attached to the wall and supported by an electrical box placed behind it.
Fiber Optic Lighting
If you're anything like us, you would have probably been in love with those stars, planets stickers our parents would stick to the roof of our bedrooms and get us that amazing experience of stargazing while lights off. Felt nostalgic?
That's exactly what it feels like with Fiber Optic Lighting. 
It's the star effect you must have witnessed in some high-end home theater rooms. It is created by fiber tubes attached through a machine. 
They come in many colours while black ceiling with white lighting remaining the typical choice people go with. 
So can you get these lights too?
Yes, you can. But Fiber Optic lightings are generally suggested to those who have an indented ceiling. With that structure, it works the best!
Seat-side Lamps
If you need to have some quick lighting close to where you sit, you can opt for seat side lamps installing a table on each side of the chairs in your home theater room.
These can be used as lighting to keep everything around you visible, to find remote or maybe to just see the person next to you clearly.
Being said that, if you have already installed sconces, you can do just fine even without the seat side lamps.
LED Light Strips
Apart from the lighting purpose, if you want to use something that will simultaneously give a very cool look and feel to your home theater room, then undoubtedly, it's the LED Light Strips.
You can be absolutely creative and experimental in terms of how and where you want to use them. 
Choose the ones that don't produce much heat and can be cut to length to place them differently for different sections. 
If we have to give you examples, the most creative ones would be where people use them on steps, risers or simply hang them on the wall where they look most fabulous and give out the soft glow.
Cove Lighting
Looking for something classy? Cove Lighting can help you with that.
These are the lighting used for giving your ceiling a soft glow and adding a pleasant light to your home theater room. 
They do not reflect any light on the screen directly so you can always have them turned on at the lowest dim and enjoy the viewing time.
Which ones amongst these would you love to use in your home theater room?
Before saying goodbye for the day, here're our two cents to consider before you get started with your lighting –
Use LED Bulbs
They might cost you a bit extra in the beginning but trust us, they consume a lot less energy and produce less heat as compared to any other bulbs.
The best thing? They come in different colors and temperatures so you can choose the best suitable.
Block the unwanted light
This is the last thing you would want to experience in your home theater room – The unnecessary light peeking in!
If there are windows to your home theater room, block the light with blackout or thick curtains or any other measure you have to take to avoid that light.
Wall Colour
The darker the wall colour, the less light it will reflect. 
Choose colours like grey, indigo, brown or lighter shade of black for your wall to get the minimum interference of the reflections throughout your watching time.
Use different breakers for connection
Instruct your electrician to connect all the lights that you will be using with different breakers than to one circuit. 
This will help you avoid the fixture noise to break into the audio system of your home theater.
Know that these points will only keep you less involved with fixing issues later so make sure you have them in place.
That's all for today.
Hope we could help you out in some way to get started with your lighting setup!
If you still find yourself wondering about something, feel free to reach out to us in the comments below and we would be happy to clear the confusion.