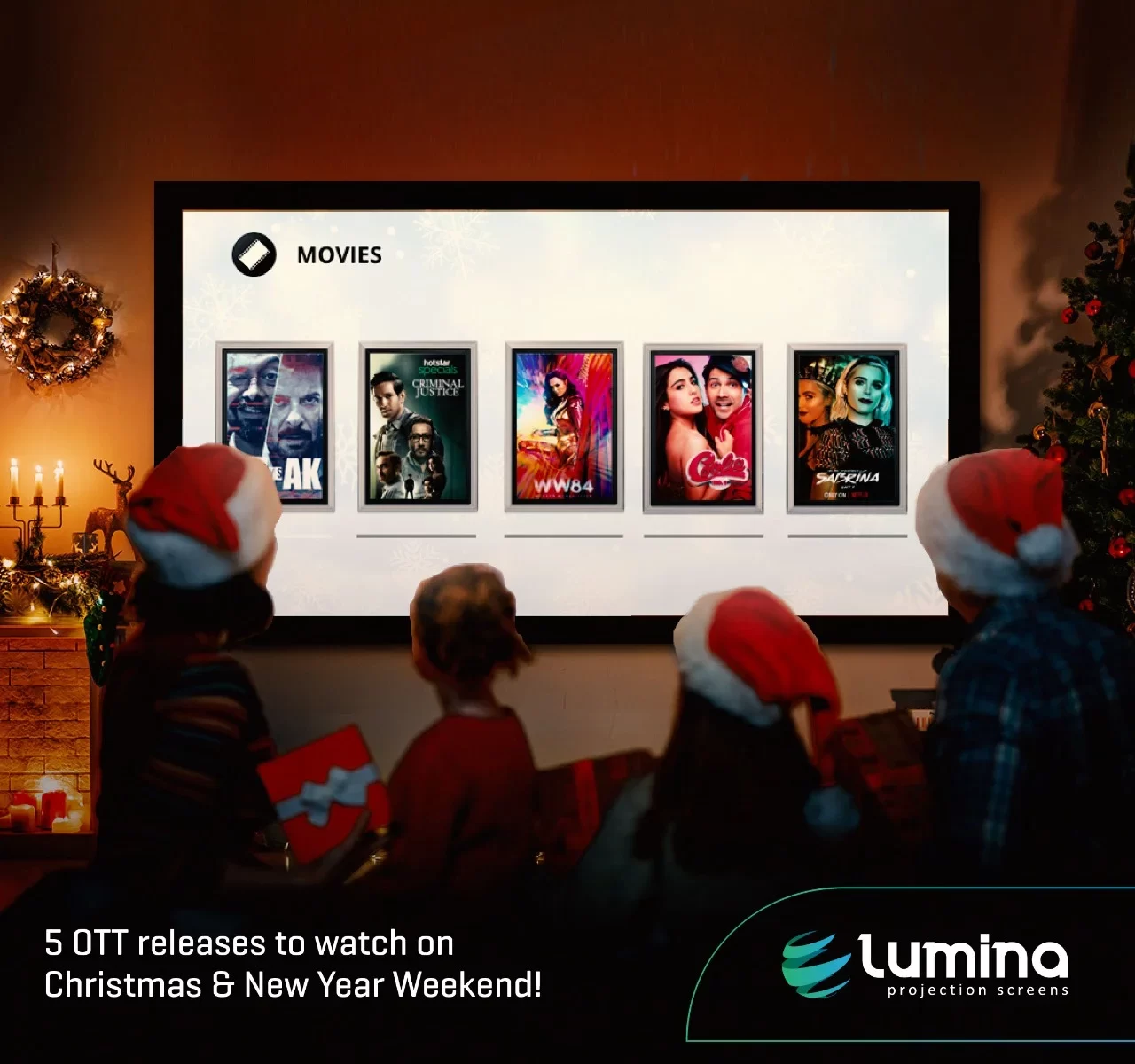 2021 is almost here! 
But before that, we have a list of holidays to watch some exciting movies and web-series on!
What's on your list to watch for Christmas and New Year?
If you're still thinking, don't worry. We have you covered. 
From Netflix, Amazon Prime, Sony LIV, Hotstar to Hotstar Disney, we have news from all of your favourite platforms.
So grab your popcorn and get ready to end the year enjoying the best of content on Lumina Screens!
Here's your bucket list to watch out for:
1. AK vs AK (movie releasing on Netflix)
This black-comedy thriller film is here to serve you a different dose of entertainment. 
The film takes you through a journey of a film director who kidnaps the daughter of a movie star and shoots the real time experience of the star searching for his daughter.
Mind blowing, isn't it?
Catch up on this thriller starring Anil Kapoor and Anurag Kashyap directed by none other than Vikramaditya Motwane, on Netflix, premiering from 24th December 2020!
2. Criminal Justice: Behind Closed Doors (web-series releasing on Hotstar)
After the successful season 1, the season 2 of this blockbuster web-series is here! Since the trailer was released, fans have been in awe of Pankaj Tripathi's yet another impressive performance.
He is back as an Advocate to solve a new case, alongside Anupriya Goenka and Kirti Kulhari who will be playing the role of a woman who allegedly kills her husband.
You can watch it on Hotstar from December 24, 2020.
Wonder Woman 1984 (movie also releasing on Ott platforms)
If there's a movie worth watching to end your 2020 with a bang, it couldn't be any better than 'Wonder Woman 1984'.
With a fantastic story-telling, amazing plot & a mind blowing acting by all the characters, Wonder Woman 1984 is a treat for all hollywood fans.
From the Wonder Woman living a life under rocks despite having all the powers to her mustering all the strength, wisdom and courage to fight back Maxwell Lord and the Cheetah is an absolute display of heroism and inspiration.
Catch it on December 25, 2020 on Ott platforms.
4. Coolie No.1 2020 (movie releasing on Amazon Prime Video)
A remake of the 1995 film super-hit film starring Govinda and Karishma Kapoor, Coolie No.1 is a perfect comedy-drama for Bollywood fans.
The story revolves around an interesting plot of a pandit getting a rich businessman's daughter married to a Coolie posing as a millionaire, as a revenge for his insult. It's quite fun to see how the drama unfolds and things start to go out of hand.
Starring Varun Dhawan and Sara Ali Khan, with Paresh Rawal in a supporting role, and directed by David Dhawan, it is set to release on December 25 on Amazon Prime Video.
5. Chilling Adventures of Sabrina Part 4 (series releasing on Netflix)
If you are someone who enjoys dark and different takes for things in a story, this one's for you.
Chilling Adventures of Sabrina is based on an American Comic Book published by Archie Horror and written by Roberto Aguirre-Sacasa.
The story revolves around a fictional town of Greendale including horror and witchcraft tales. Sabrina Spellman, navigates between two worlds living within her, as a half-witch and half-human, while fighting the forces that threaten her family and the daylight world humans inhabit.
Catch it on Netflix on 31st December 2020.
Let us know how you like these movies and web-series. Also, do share this list with your friends and family who might be also confused about what to watch.
We would be constantly bringing more of such suggestions for you all to catch up on! 
Till next time, stay tuned, and stay safe.