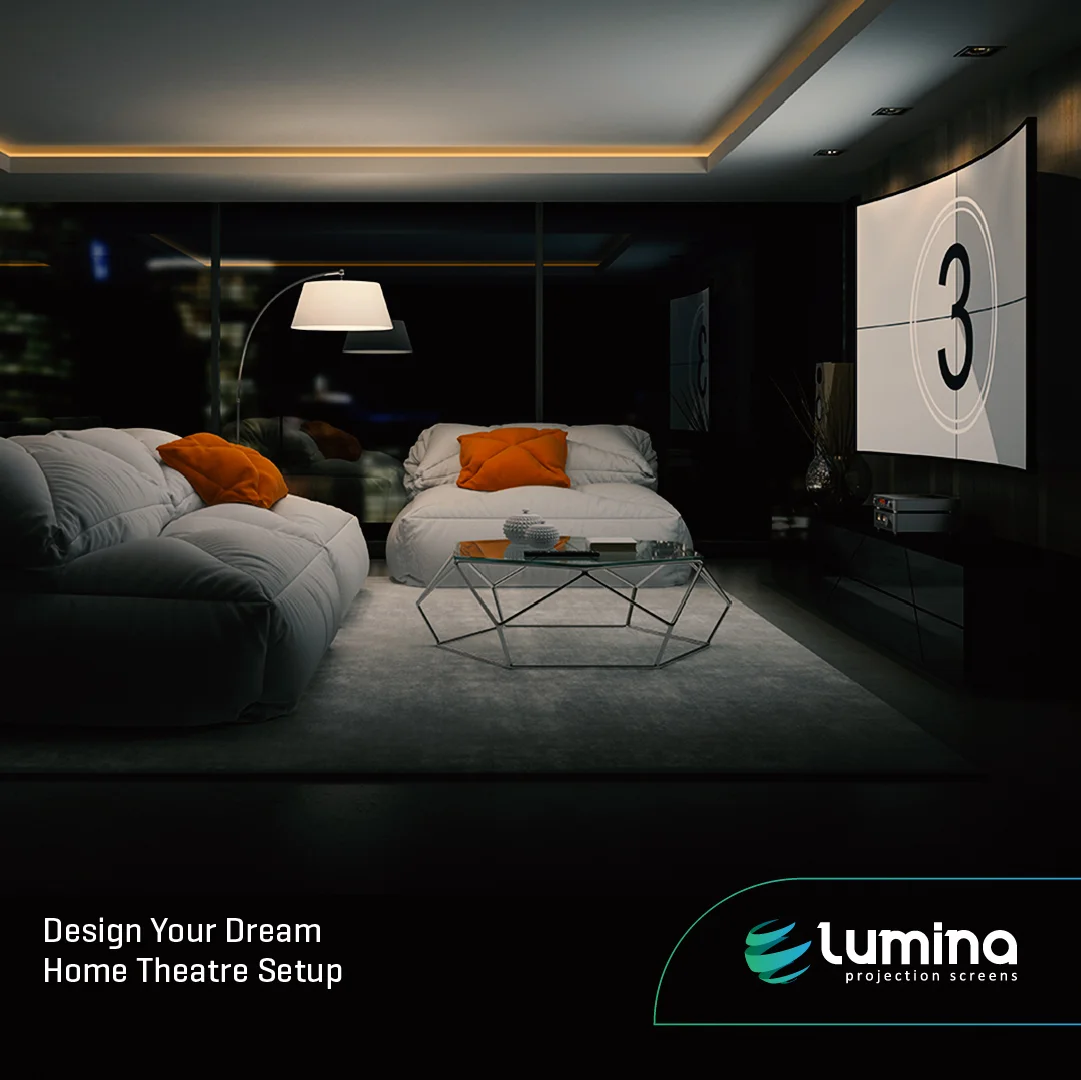 Undoubtedly, going out for a movie is a favorite pastime for many of us. 
Who doesn't like to escape reality for a while and immerse themselves in the dimensions of an imaginary world, right?
But, do you think it is just about the Movie? 
No! To give us that extraordinary experience, the set up of those cinema halls does play a very big role. 
What if we say you can have something at home that would give you the same experience? 
Yes, you guessed it right!
Home Theatre!
No matter how big or small the house is, everyone has this dream of having the ultimate Home Theatre Setup!
A home theatre is much more than just a sofa and the screen in front of you. So, where to begin designing your dream home theatre setup? 
Fret not, here we bring all the insights for you to convert this dream into a reality!
Let's begin!
Choosing a dedicated room for the setup
It's best to have a room for your home theatre which is solely dedicated to watching video content on the screen. If you set up the home theatre in the living room or say bedroom, you know there are even going to be other activities that may disturb your viewing experience.
Similarly, if you plan to select a room on the same floor or just across the Kitchen, noises while cooking, movement of people or even the smell would invade. 
Therefore, choose a room which is away from all these distractions. Also, go for the one which is spacious enough so that the audience can maintain a healthy distance from the screen.
How to avoid the outside noise from disturbing the home theatre sound?
Getting a dedicated space for your home theatre is the first and foremost priority to avoid the unwanted sound. Even if you manage to do so, there could be many other noises that would just crash in and destroy your home theatre's audio.
To avoid them, here're some steps you need to take while building your dedicated home theatre setup:
If there are windows in the same room, use thicker curtains that would block the light and make it difficult for the outside sound to pass through.

Replace your normal doors with Solid doors which would completely block the noise happening across the other rooms of the house.

Make your room soundproof by adding a layer of drywall or replacing it with sound-reducing wallboard.
How to design a theatre-like experience?
We're sure this question must be on the top of your mind even before you got started with the setup!
We want to ask you. What does your dream set up look like?
We ask this because you're completely free to have your own definition of that 'theatre-like experience'.
For some people, theatres with red velvet walls, dramatic lights, tiered seating are what that dream looks like. While, for some, it's those deep dark rooms with nothing but just the popcorn maker next to them would be a great set up. And for some, it might mean something vastly different. 
You get the point here?
It's only going to look like your dream if you design it yourself. Maybe you can just start with small details, like the colour of the curtains and keep designing it as and when more ideas strike.
One Tip: Keep it simple. Avoid sticking all the posters of your favourite celebrities as it's only going to be a cause of distraction for everyone else.
Maintenance of the A/V Component Rack
The A/V Component Rack is like the brain of your whole Home Theatre Setup. All the components such as cable box, BluRay player, network media streaming box, home theatre tuner, remote and everything else that is a part of the audio-video set up will be placed on this A/V component rack.
Also, make sure it is located near an electric outlet and has an internet source wire/access.
The A/V component rack should always be well-ventilated as the components placed over it can create heat and damage if the heat is excessive. Another point that goes without saying that this rack should be sturdy enough to hold all the electronics.
Distance from the Screen & Speakers for a healthy viewing experience
Screen
Generally, it is advisable to sit 1.5 to 2.5 times the screen size of a 1080p TV where the viewing distance should be anywhere between 7.5 and 12.5 feet. For a 4K TV, you should sit 1 to 1.5 times the screen size where the viewing distance to be maintained is anywhere between 5 to 7.5 feet.
The best viewing height is always having the TV at the centre of your eye level. 
Speaker
Keep your speakers aligned with the distance of your viewing position. Most of the sound systems have volume controls for each speaker separately and also allow to adjust the timing.
Home theatres usually go along with 5.1 Surround Sound 5 full-range speakers and a low-range Subwoofer. Those 3 speakers and the subwoofer could be placed in the front of the room, close to the TV. The rest two could be placed behind the viewing area. Try to keep them 20 inches from the wall to avoid the sound reflecting off walls.
However, every room has different features so you can experiment with the speaker placements and come up with your own combination.
Other factors to take care to get a seamless viewing experience
Don't hang frames on your walls as they will reflect the light and sound of the room.

If you are having the set up in the basement, concrete walls would be your worst enemy. Install drywall in that case.

Acoustic wall panels are a great option. They absorb the sound and modulate high and low frequencies to prevent echoes.

Home Theatre lighting works the best with dark-colored paint for Walls as well as the Ceiling.

Make sure the carpet installed on the floor is in a good condition and is wall-to-wall. Carpets along with cushion pads underneath make for a comfortable surface to sit or even lie down.
Are we good to go now?
Just assuming, if you're still scratching your head over 'Which Home Theatre should I go for?', check out Lumina Screens where we are on a mission to create an enchanting movie-viewing experience at home for everyone!
Hopefully, this post gives a head start to your home theatre set up process! Once it's done, don't forget to invite us over for a movie. The popcorn will be on us!
Got any more questions? Drop them in the comments below and we would be more than happy to help!