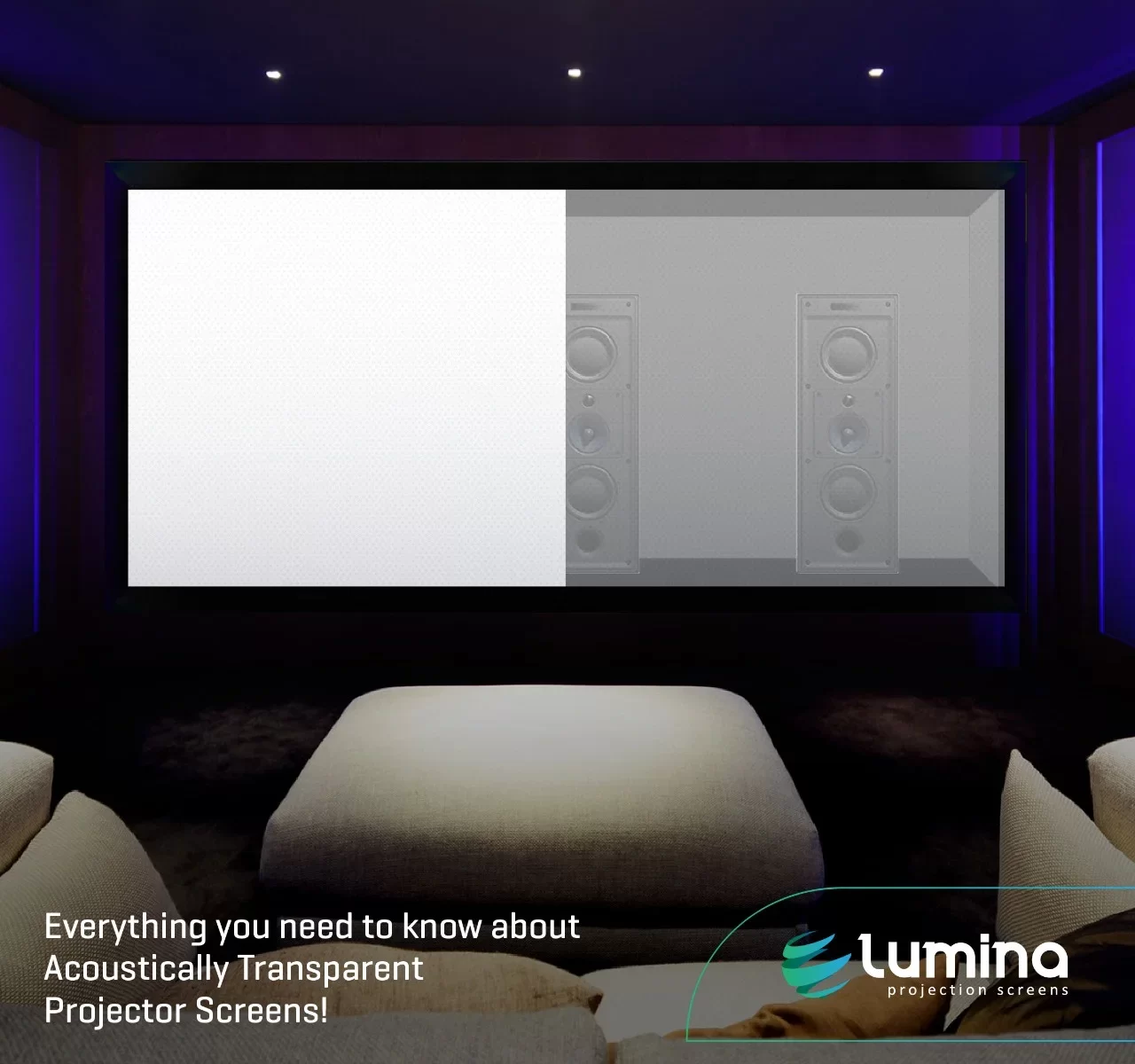 Planning to buy a new home theatre but confused about the projection screens?
Choosing one from all the options available out there in the market is a challenging part. 
Which projection screen should I go for? Which projection screen will give me the best viewing experience? Which projection screen would be most compatible and work best for me? These are some of the questions which must be revolving around your mind right now. 
Through this article, we are bringing to you the expert insights on one of the best screens available in the market 'Woven Acoustically Transparent Screen'.
What is an Acoustically Transparent Screen?
An acoustically transparent screen is made of a woven material that blocks the light from passing through without disturbing the sound to get through smoothly and effectively.
Woven projector screens are made on a loom similar to how textiles are created. The woven effect provides more natural variation in patterns, thickness and spacing on the screen. 
This makes them more effective in:
Being aligned with the projector pixels.

Reduce the effect of moiré.
What is the Moiré Effect?
The moiré effect is observed when a line or multiple lines of the length of the screen appear. They are very distracting, sudden and are difficult on the eyes. They occur due to the pixel patterns of the projected image align precisely with the pattern of the projector screen.
Since the woven screens are high-end screens, they are less likely to experience the moiré effect than the perforated or any other screens.
Find one of the best Acoustically Transparent Projector Screens for your home: Lumina Accupix Pro – Discover Immersive Experience
Why Acoustically Transparent Screen over anything else?
This saves a lot of space. Acoustically Transparent Projector screens fit perfectly on the wall, edge to edge if required. 

Premium theatre-like experience at home.

With SDR technology, it allows total opacity to the projection surface while watching from the front. The speakers are not seen through the screen nor do they reflect any light that may create a visual distortion.

It doesn't demand a fancy installation of the speakers as they are behind the projector screen and not visible. So you can have a set up as per your affordability without worrying about the look.

It is built by using high-standard, reliable and long-lasting material compared to any other screens in the market.

Least moiré effect to help you get a smooth and a trouble-free viewing experience.
What creates wonders with Acoustically Transparent Screen?
They help you place the speakers behind the projector screens and out of the direct sight.  So, the voices and dialogues seem to be coming straight from the character rather from any other side of the projector screen.
This creates an unrivalled experience for every family member to enjoy their favourite shows, movies, sports, cartoons and everything that they watch.
True Theatre-like experience, isn't it? If you want to experience such magnificent features and the unmatchable viewing event, there is nothing better than the Acoustically Transparent Projector Screen we can suggest to you.
Being said that, one of our products, Accupix Pro, a woven, acoustically transparent projection screen, holds the ability to transform your home theatre experience by 360 degree.
With Accupix Pro, it doesn't seem like an illusion but a reality when you hear the character's voice coming straight from them and not from any other side or having trouble with the alignment of dialogues.
It feels as if everything is happening right in front of you.
Explore more such magical details about the product here:
Lumina Accupix Pro – Discover Immersive Experience
We hope this article helped you with all the insights you needed to know about Acoustically Transparent Screens. 
Think this can help a friend or a relative who is wondering which projector screen to go for? Don't hesitate to share the link with them!
Also, if you're stuck with any other questions related to Acoustically Transparent Screens, put them in the comments below and we will be more than happy to help!