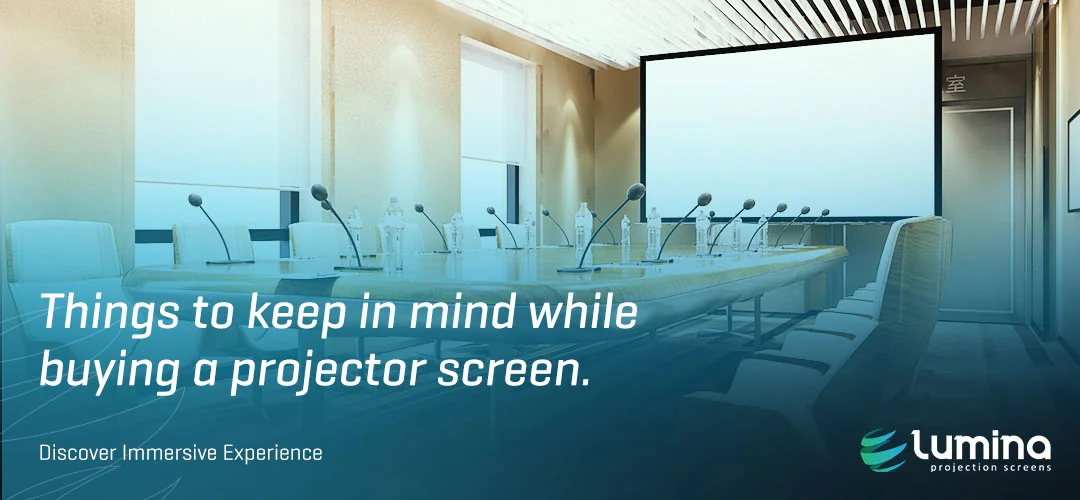 Projector screens are an essential component of any home theatre or conference room setup, providing a larger and more immersive image than a typical TV. Selecting the ideal projector screen can be difficult for those unfamiliar with projectors. To assist you in making an informed choice, we will discuss important variables to consider when purchasing a projector screen.
II. Screen Size
Screen size is one of the most crucial factors to consider when buying a projector screen. The screen size should be determined based on the size of your room and the viewing distance. A screen that is too small or too large can negatively impact the viewing experience. Factors like the size of the room, ceiling height, and seating arrangement should be taken into consideration when selecting the screen size. As India's only manufacturer, Lumina Screens can customize screens to any size or format.
III. Aspect Ratio
Aspect ratio refers to the ratio of the width to the height of the screen. It is important to choose the right aspect ratio based on the type of content you will be displaying. Common aspect ratios include 16:9, 4:3, and 2.35:1. 16:9 is the standard aspect ratio for high-definition content, while 4:3 is ideal for standard-definition content. 2.35:1 is perfect for displaying movies in the widescreen format.
IV. Screen Material
The type of screen material used affects the picture quality, colour, contrast, and viewing angle. Common screen materials include matte white, grey, and high gain. Matte white is the most popular screen material and is suitable for use in most settings. Lumina's Color Pro White Projection Screen has a matte white surface that's very smooth due to its Nano texture finish. To prevent loss of light across the surface, the gain is measured in all nine places and kept consistent. Grey screens are ideal for areas with high ambient light, such as the LEOR 15 Carbon Black Projection Screen which is designed to make your image look better by rejecting ambient light. It enhances contrast and also reduces sparkles and absorbs moderate light from any direction. 
V. Screen Gain
Screen gain refers to the amount of light reflected by the screen. A high screen gain will increase the brightness of the image, but it may also reduce the viewing angle. It is important to consider the ambient light conditions in the room when selecting the screen gain. Lumina's LEOR 15 is a screen that rejects ambient light and has a surface with a gain of 1.5, which improves the white levels in your image. It also has a reflective layer with ultra-fine particles that removes sparkles and a substrate that effectively absorbs moderate ambient light levels from any direction. The superior coating also enhances the black level of your image.
VI. Installation and Maintenance
Proper installation and maintenance of the projector screen are critical to ensure optimal performance and longevity. It is recommended to consult with a professional installer to ensure the screen is installed correctly. Regular cleaning and maintenance of the screen will also help to maintain its performance. When you buy a screen from Lumina, our amazing team of professionals will deliver it straight to your doorstep with no hassle. But we don't stop there! We'll even install it for you so that you can sit back, grab some snacks, and immerse yourself in the ultimate viewing experience with just the touch of a remote. No fuss, no stress – just pure enjoyment.
VII. Conclusion
If you want to elevate your movie nights or presentations, it's crucial to choose the right projector screen. Luckily, Lumina has got your back! Our selection of top-notch projector screens comes in various sizes, aspect ratios, materials, and gain options to fit your preferences perfectly. What's more, we can customize the screen size according to your need! Trust us, you don't want to miss out on the ultimate viewing experience!