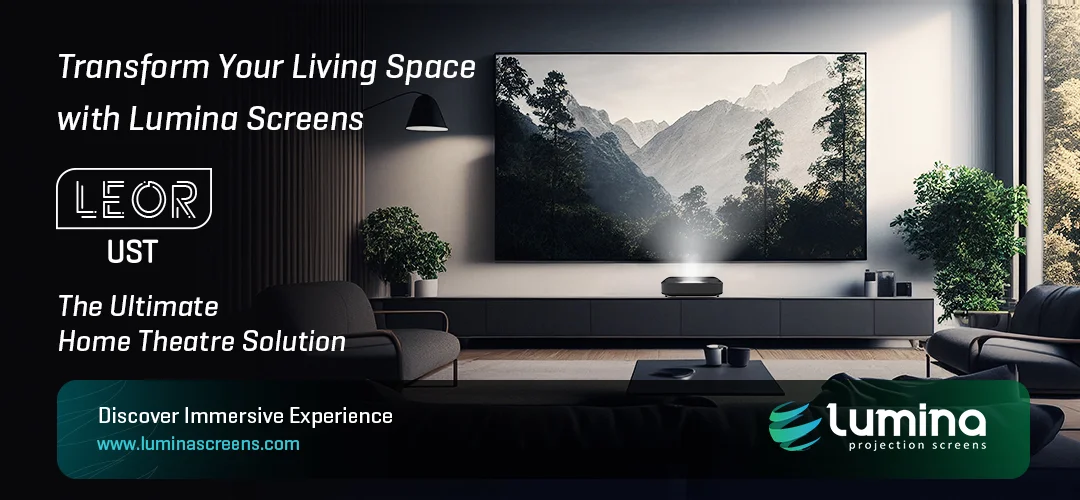 Lumina Screens, a leading home theatre brand backed by Galalite Screens, leaders in the cinema industry with 60+ years of experience, is proud to announce the launch of their latest innovation, Leor UST. This groundbreaking projection screen is set to redefine the home theatre experience, delivering stunning visuals and unparalleled image quality.
With its unique lenticular structure, Leor UST takes your viewing experience to new heights by delivering vivid and immersive visuals with enhanced image quality. It features advanced light-rejecting technology, ensuring exceptional clarity even in well-lit environments. Leor UST's 170 degrees wide viewing cone provides optimal visibility from any angle, making it perfect for cosy family rooms. 
"Leor UST is truly unordinary as its superior ALR technology takes your home theatre experience to the next level," explains Yusuf Galabhaiwala. "By precisely blocking ambient light from above and perpendicular to the screen, it delivers vivid, vibrant images while preserving the projector's contrast. You'll enjoy exceptional visual clarity even in well-lit environments."
Unleash the full potential of your projector with Leor UST's high gain and impressive light shielding, delivering stunning 16k resolution and exceptional detail for a cinematic experience at home. 
Lumina Screens' Leor UST revolutionises your home theatre, bringing cinema-quality visuals to your own space.
Get ready to be amazed by the immersive visuals, exceptional ambient light rejection, and remarkable performance that Leor UST offers.
For more information contact the Lumina Screens sales team. 
About Lumina Screens-
Introducing Lumina Screens, the epitome of home theatre screens powered by Galalite Screens, a pioneering Indian cinema screen manufacturer with over 60 years of expertise in the industry. Lumina brings the allure of the silver screen into the comfort of your own home, transforming your living room into a captivating cinematic experience. With a deep understanding of the art of projection, Galalite Screens has crafted Lumina to deliver uncompromising visual quality, exceptional performance, and immersive viewing pleasure. From vivid colours and sharp contrasts to impeccable brightness and clarity, Lumina redefines the way you enjoy movies, sports, gaming, and beyond. Elevate your home entertainment to new heights with Lumina, where cutting-edge technology meets the legacy of Galalite Screens.