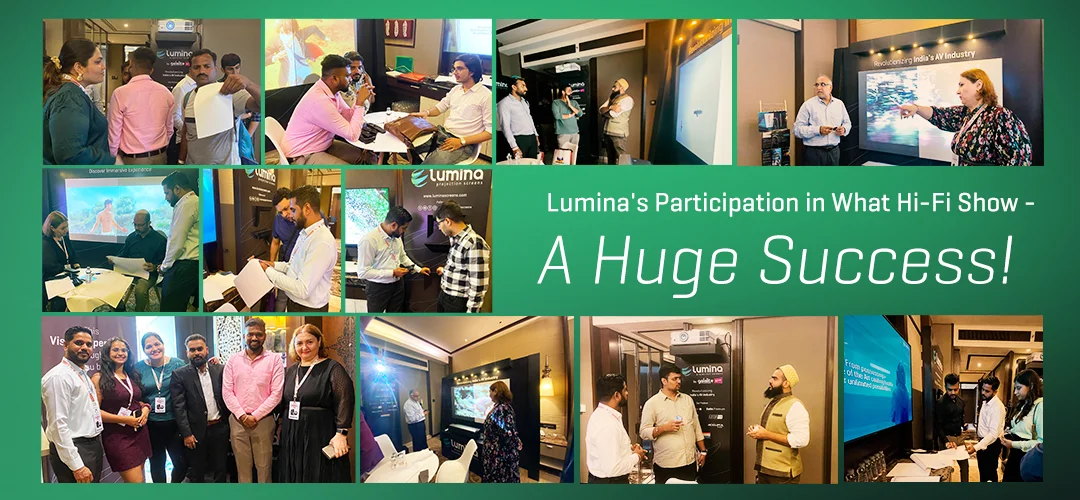 Lumina, an Indian Pro AV screen manufacturer that is revolutionalising the AV industry, is pleased to announce the success of its participation in the What Hi-Fi Show at St.Regis, Mumbai from 25th – 27th May 2023. The show catered to India's luxury home entertainment market, and Lumina was thrilled to showcase its revolutionary home theatre screens at the event. 
Lumina's room at the What Hi-Fi was abuzz with activity as visitors flocked to discover the immersive experience. Lumina, a home theatre screen brand backed by Galalite Screens, the global leader in the cinema screen industry since 1959, showcased its premium High-Contrast Leor series equipped with ALR technology. These screens grabbed the attention of every visitor who desired a luxurious home theatre experience. Additionally, the audience was captivated by Lumina's acoustically transparent screen series, which featured excellent and high-quality woven fabric.
"We are overwhelmed by the response we received at the What Hi-Fi Show. We would like to thank all the visitors for gracing us with their presence," said Pankaj Mohite of Lumina Screens.
Lumina's participation in What Hi-Fi was a huge success and the company is committed to constantly innovating new ideas to deliver the best to its customers. With its expertise in the AV industry, Lumina is all set to create a new benchmark in the home entertainment industry.
For more information about Lumina Screens, visit their website or contact their sales team.
About Lumina-
Lumina is a home theatre screen brand, powered by Galalite Screens, an Indian cinema screen manufacturer with more than 60 years of experience in the industry. Lumina believes a projection screen is not just a mere white cloth, but a technical work of art delivering an unforgettable cinematic experience. Lumina Screens stands out as the sole screen manufacturer in India that takes pride in crafting their screens within the country! Discover an immersive experience with Lumina.