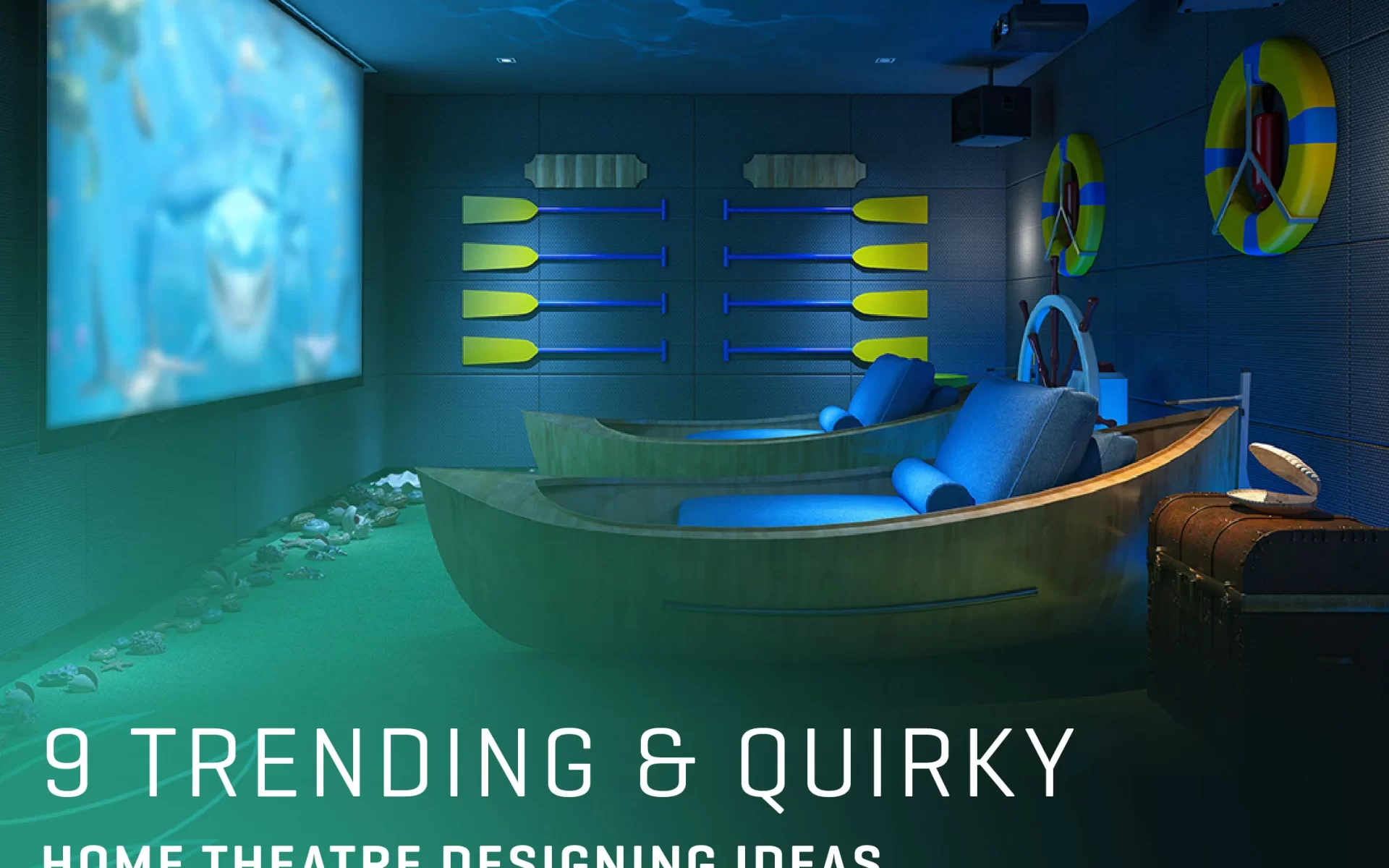 If you're someone who is ready to go that extra mile and create the best home theatre set-up one can ask for, this blog post is exclusively for you!
Unlike old times, today is the time when everyone wants to stand out with their home theatre setup and get that theatre-like experience at home. From the ambiance to layout, people love to have a customized experience.
But, what does it take to create such a setup? How to get ideas to do something unique?
Let's look into some trending and quirky ways people love to design their home theatre setup!
Cuddle Seats..Sleek Seats..Sofa Bed – what do you prefer?
Cuddle Seats bring you that extra comfort on cozy movie nights and make you feel the warmth.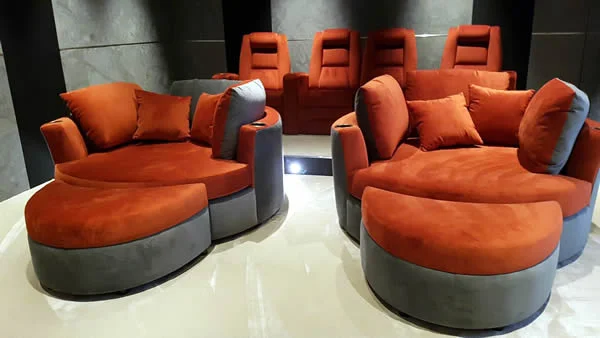 As classy as Sleek seats look, they equally provide for relaxation as they give you that extended leg area.
Sofa beds give you the comfort to use as a Sofa when you just want to chill and watch the movie…as well as when you want to rest with those extra pillows and watch the movie.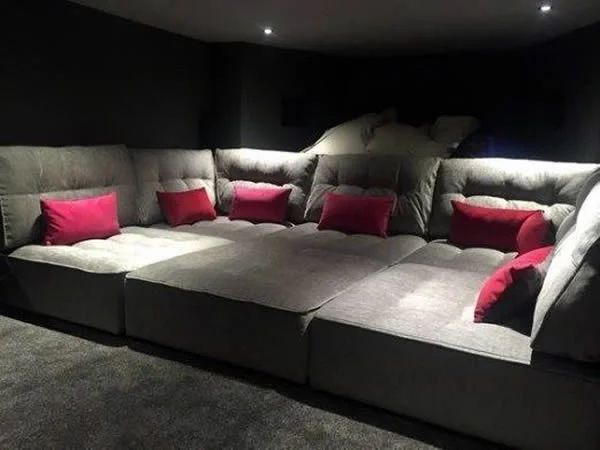 What seems the best for you?
Do you like the entrance that's dominated by your favorite movie/show/game posters?
Nobody likes to enter their home theatre setup room in a boring way. Maybe you could have some of your favorite avengers displayed there?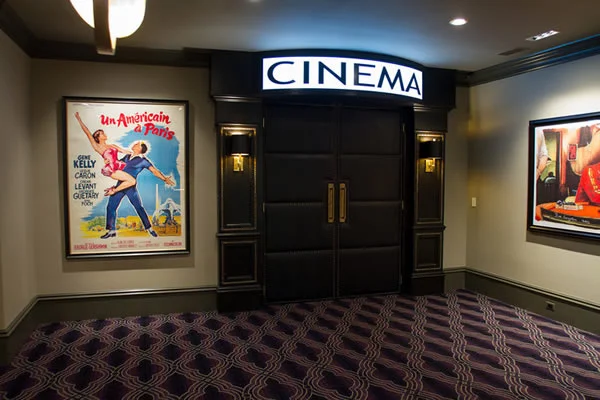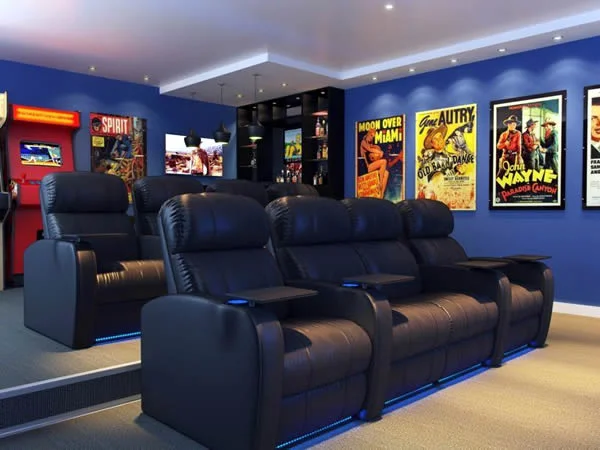 Hide the audio devices in style!
Sometimes, the home theatre comes with custom speaker grills that conveniently hide the speakers behind a beautiful design. And no, they don't affect the sound quality.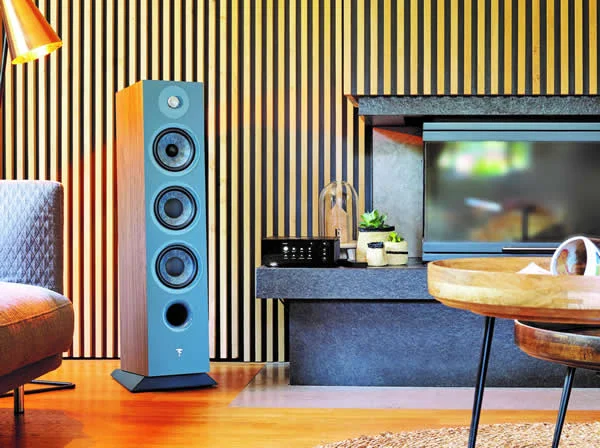 You decide the feel of your room!
Once you decide on the 'theme', whether you want to keep it Traditional, Modern, Stylish, Cozy or the cinema or web-series look, you can decide on every element of the room (seating, lighting, positioning) in a way that it aligns with the theme.
For instance, if you wish to keep the theme cinema style and stylish, you can tag the sleek sofas for the set-up. 
On the other hand, if you wish to keep it cozy with fancy elements, you can do those avenger posters at the entrance and tag the cuddle sofas for the setup.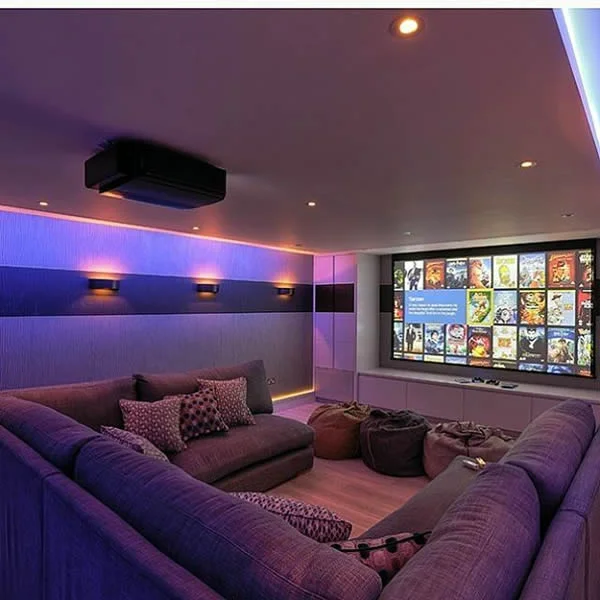 So, what's your type?
What's your Lighting Mood?
Now, just like your layout, your lighting will decide the mood you want to maintain in your home theatre setup room.
One of the ideas is fascinating ceiling lighting like this one below!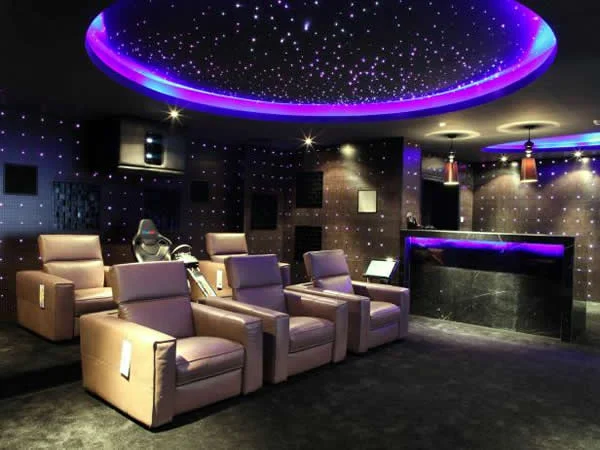 Outdoor theatre setup!
Who doesn't like watching movies under the wide sky full of stars?
Nothing beats an intimate movie night with friends on weekends and an outdoor home theatre setup will make it even more amazing!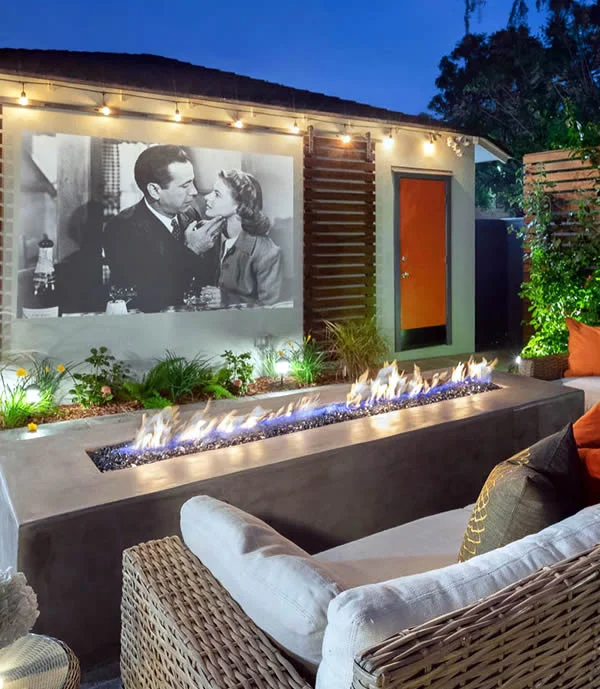 Never done this setup earlier? We wrote a blog post explaining the same here.
Creating your home theatre setup in the basement & turning it into a multiple-use room!
Don't have a separate room for your home theatre setup but have a basement? Perfect, use it! You can absolutely transform that old rusty space into an unbelievably beautiful setup!
Just look at this picture below.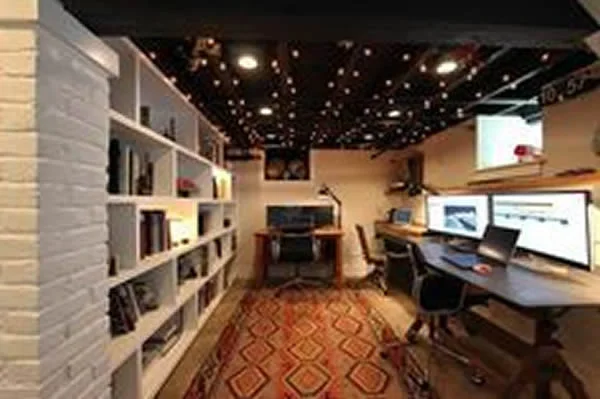 Paint it with beautiful colours, install sound-absorbing carpets, furnish it well, make the provision for all the elements you wish to put up there!
In fact, if arranged well, you can make it a multi-use room which can act as a home theatre room, library, office cabin and much more.
Use discreet tubing to hide wires cleanly!
You don't want those wires and cables sneaking out from everywhere and disturbing the movement of people. Even if it doesn't disturb anything, you would love to keep it out of sight to give a clean look to the setup.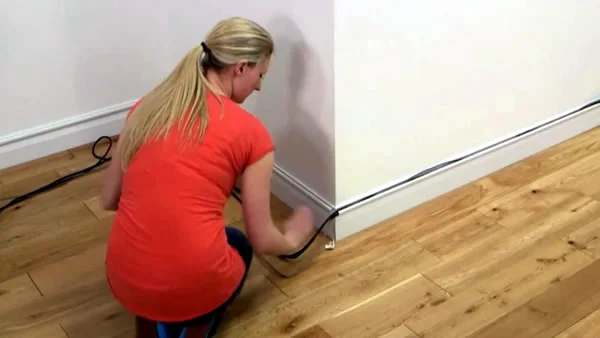 Last but not the least –
Choose a good projection screen!
This is probably the quickest hack to make your setup 100x likeable, better & modern. 
It will not matter if you implement 10 other ideas but not have the most basic thing to have in a home theatre set up – A great home theatre projection screen!
If you're looking to get that immersive experience, great compatibility, most enhanced wide-angle view and an incredible HD experience, this is where you need to find your next screen: Lumina Screens.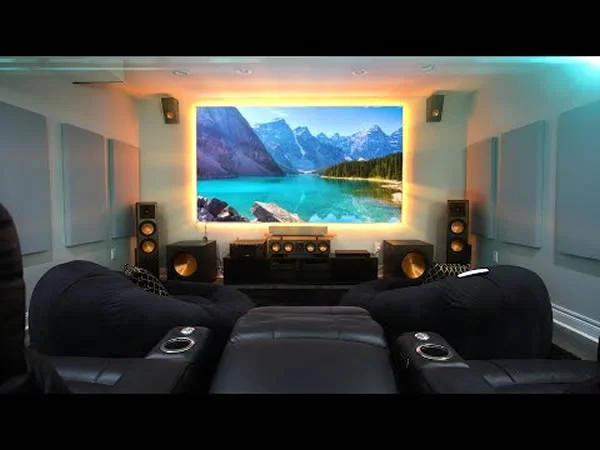 Liked these ideas? Share them with a friend you think will benefit from the post.