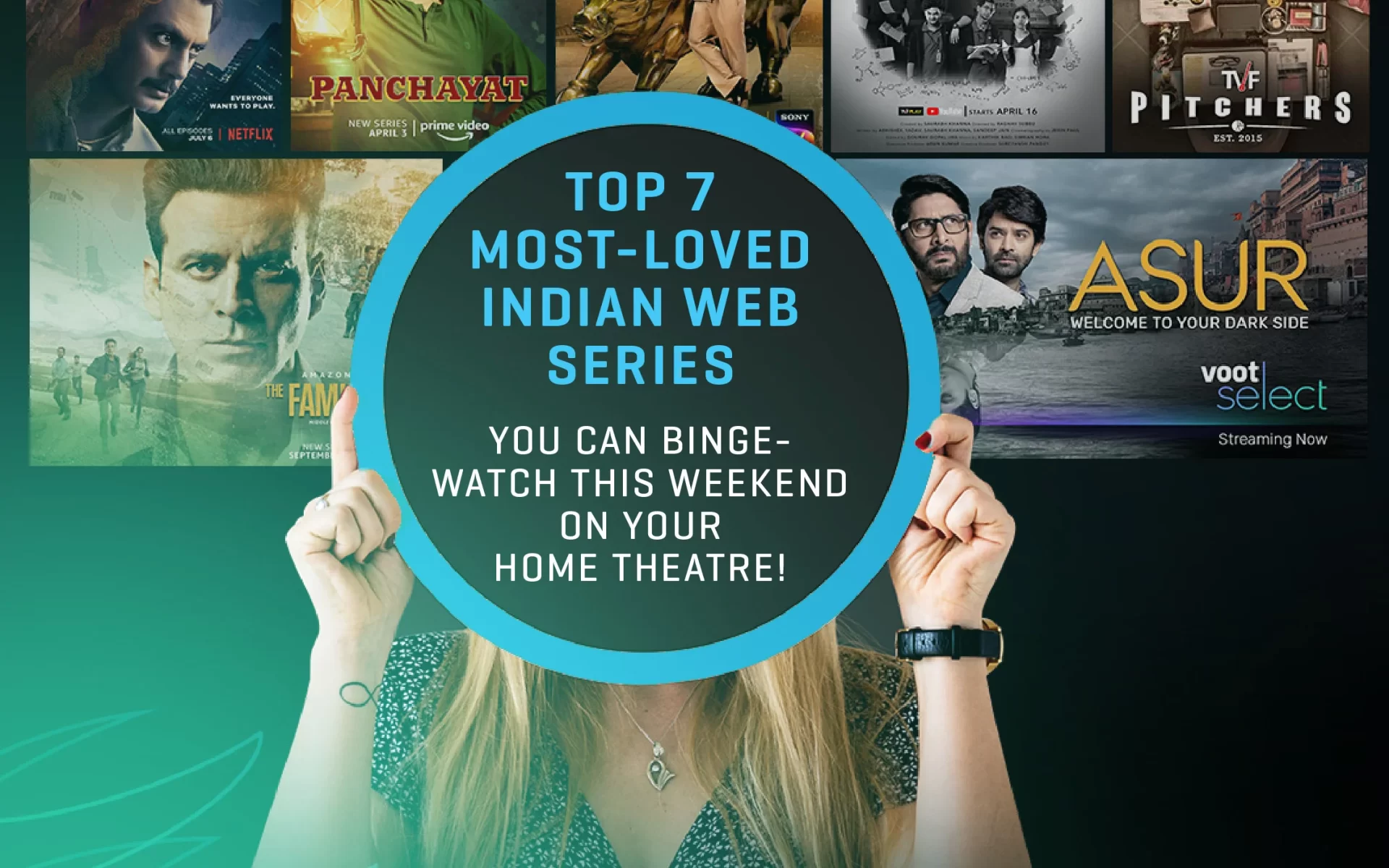 Entertainment…rescue… savior…what do you call them?
Yes, you got it right. We are talking about Web-series'.
Gone are the days when OTT platforms were meant to be enjoyed only by the youth on weekends.
Today, there's something for everyone and if anything emerged as the top entertainment for people in India in the last year, it is the Indian Web Series'.
The mindblowing traction they received due to great storytelling, thought-provoking topics & epic performances by the entire star cast, has put them on top of our minds.
And for all the right reasons. 
Now, when the challenging times are back again, we thought why not recall some of the Indian web series that gave us a shot of happiness last year.
We've curated a special list for you to hop on and enjoy this weekend.
Here you go –
Sacred Games
Being the first web series produced by Netflix in India, it was expected to go big and when it was out, this Indian Crime Thriller just hooked the audience with its nerve-wracking storytelling.
With an epic duo of directors – Anurag Kashyap & Vikramaditya Motwane along with an equal star cast like Saif Ali Khan, Nawazuddin Siddiqui, and Radhika Apte, Sacred Games brings the thrill that stays with you long after completing the series.
Panchayat
This Hindi Comedy Drama is a great example of how simple stories can leave a big remark on us.
Panchayat captured the real essence of the struggle of a youngster when it comes to leading life in a small village in India. Especially a youngster with ambitions, dreams, and passion.
If you're looking for something heartwarming to watch over this weekend with your family, Panchayat will beat all the other web series on this list.
Kota Factory
Kota Factory captures what goes behind the scenes in the city, Kota (India) where lakhs of students arrive every year with dreams and hopes to crack the most difficult examinations of the country.
After watching Kota Factory, we realize how little we know about their routine struggles, extreme pressure to crack the exam & how they manage to push every single day without parents in a new city.
If you would like to witness an eye-opening story like this, Kota Factory should be your go-to web series this weekend.
Scam 1992
Scam 1992 was the 'talk of the town' in 2020. We're sure you don't need an introduction to this series that took the internet by storm.
Based on the real scam of 1992 by Harshad Mehta, this series nailed everything from Acting, Story, Music and most importantly, its Dialogues!
'Risk hai toh ishq hai' has become an iconic dialogue and everyone who has watched the series simply doesn't seem to get over it!
So are you giving Scam 1992 a shot again this weekend?
The family man
Why we absolutely loved this web series is because, unlike any other action drama, The Family Man not just shows us the on-ground scenes of the drama but also how the family life of such heroes unfolds. 
If you have a knack for stories that are thrilling yet emotional, you're in for a great time with The Family Man.
Needless to say, Manoj Bajpayee is a treat to watch, as always!
Asur
Are you looking for content that would simply blow your mind?
Look no further and get Asur started on your home theatre already.
Words would fail to discuss the emotions one goes through when they are watching Asur. A combined genre of mythological fiction and thriller, Asur is the kind of content that's produced once in a lifetime and when it does, you must watch.
Arshad Warsi made his debut through this series being the lead role and we wonder if there could be anybody who could play this role as fantastic as he did. 
If you want to go for something 'unconventional' this weekend, 'Asur' wouldn't disappoint you.
TVF Aspirants
You can't help but fall in love with any content produced by this wonderful platform – TVF.
Recently released TVF Aspirants just reconfirmed this faith. 
It is a story of 3 UPSC aspirants: their journey, their struggles & their friendship!
Gather your friends and tune in to TVF Aspirants this weekend!
If you have any more suggestions for all of us, put them in the comments below!
Also, don't forget to share this list with anyone who might be still wondering what to watch this weekend!