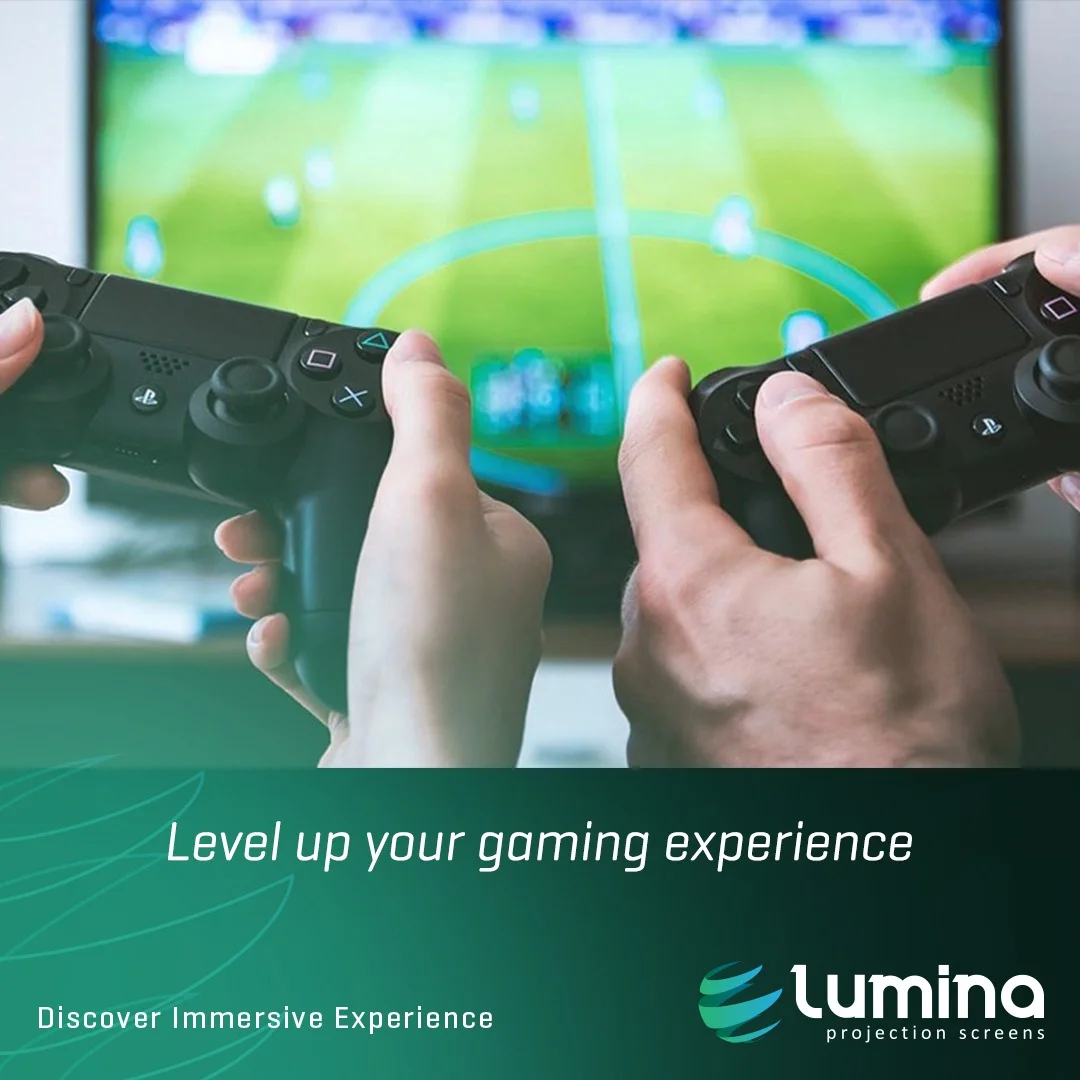 Whether you play Switch, PS5, XBOX, or even gaming PCs, projector screens are a fantastic way to upgrade your gaming experience. Not only can you enjoy immersive gameplay but gaming on projector screens also reduces eye strain, and gives you exceptional image quality. Still unconvinced? Let's take an in-depth look at how you can upgrade your gaming with projector screens.
Reduced eye strain: With fast-moving images and long hours of play, it is quite common to feel eye strain while playing on a monitor, but with a projector screen, you are not directly staring at the pixels and sitting further away so an immense amount of strain is lifted from your eyes. Since projector screens cover a larger area than a conventional computer screen, you will not feel the need to sit close to the screen to catch all the action.

Adjustable settings: One can adjust the brightness of the TV but since a projector's performance primarily has to do with brightness, it is better at it. With a projector, you can also change the screen output size, unlike TVs. This way you can increase or decrease the image size on the screen and enjoy viewing from an unlimited amount of angles and positions in your home theatre or living room.

10x more immersive gaming: Why be restricted to a small screen when you can upgrade to a projector screen and experience immersive gaming? Multiplayer games and split-player games are so much more fun to play on a projector screen where you can see much more of the game area. Besides, projector screens thrive in low and dark light conditions so you can enjoy a much better and more immersive gaming experience where you can actually feel as if you are in the game itself.
So what considerations should you have while opting for a projector screen for your gaming den? Firstly the screen, no matter how great the projector is, the screen is the make or break part of the deal. Not all projectors work with all screens. A poor screen will end up ruining your experience with distorted, blurry and off centred images. A good screen, like the Leor 17 from Lumina Screens for example, elevates the gaming experience 10 fold. It offers 1.7 gain for brighter images and works great in ambient light conditions so you don't have to play in complete darkness unless you want to. You can enjoy 16k resolution for a mind-blowing immersive experience and great images too. A good projector is also important as it should have Low Input Lag as the only disadvantage of gaming on a projector screen is the small amount of lag as compared to a TV. A projector with a good refresh rate will give you crisp and smooth images with great graphics. It is ideal to have a projector with a refresh rate of 120hz or higher for the best results. Also, if you are planning to install your setup in a room smaller than 9ft in length then you should opt for a short-throw projector.
So there you have it. Gaming is a great way to unwind and make new friends. Upgrading the experience with a projector screen only makes your gaming more enjoyable and immersive. Happy gaming!