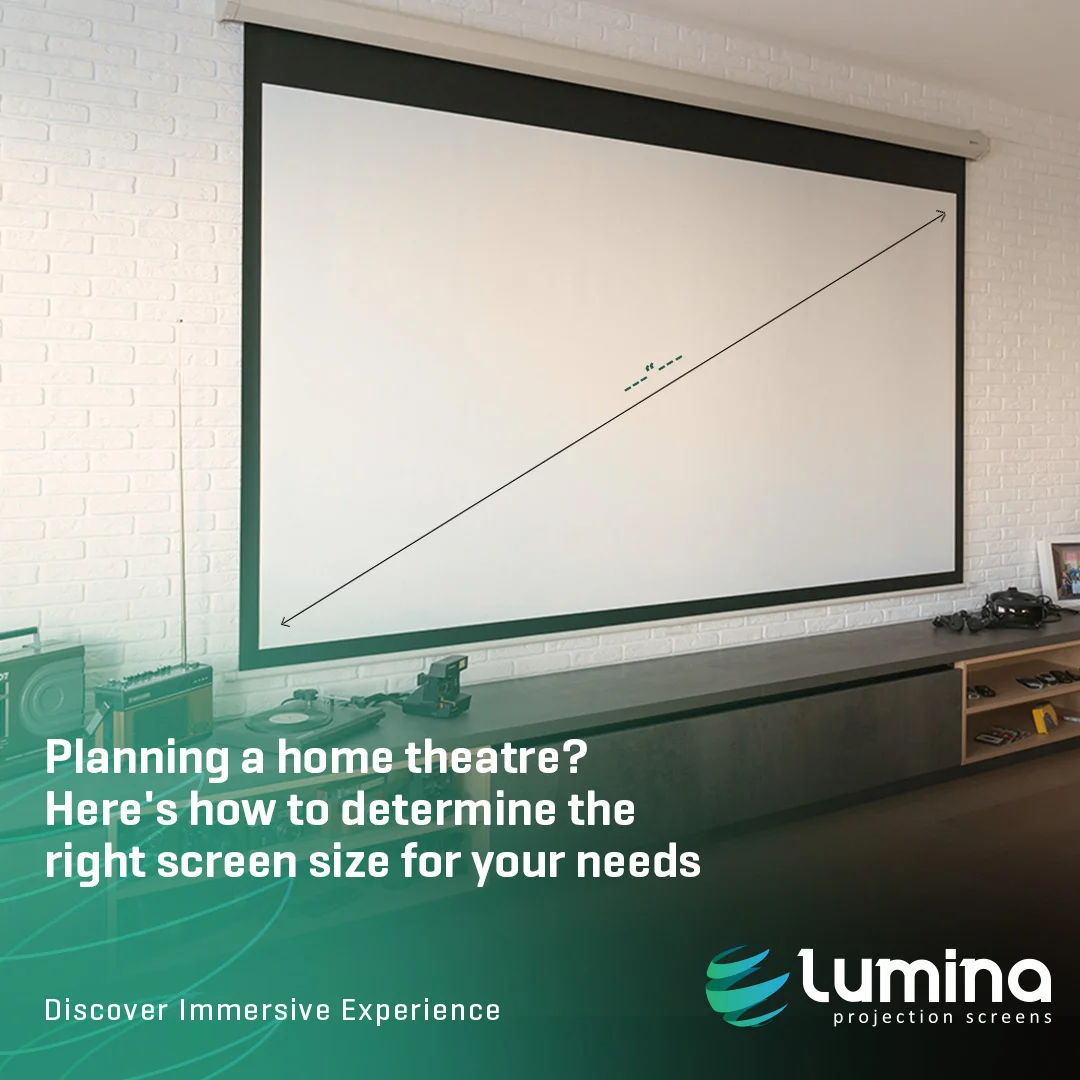 Installing a home theatre can be a daunting process as much as it is exciting. And choosing the right size and system will surely enable you to indulge in an immersive viewing experience. One of the most challenging parts is choosing the right screen size. Here we'll help you learn the ABCs of picking the right screen size for your home theatre so that you can get an unparalleled cinema experience through the right projection. All you need is a tape measure and a calculator.  
Screen size is subjective, find your right fit!
The screen size must be selected depending upon multiple factors including – 
Size of the room

Seating arrangement and capacity 

The primary purpose (likes/dislikes) 
After identifying your unique requirements, you can choose the right type, size and features of the screen so that you receive a viewing experience you have imagined. 
With screen type, pick the right ratio!
First of all, decide which one of the two aspect ratios (16:9 and 2.40) you should pick for your home theatre. For the majority of people, it'll be a 16:9 aspect ratio because all flat panel television and most front projectors are a 16:9 ratio. You can talk to our expert on info@luminascreens.com, to know which the right ratio for your home theatre is. 
Pull out your measure tapes!
First of all, measure the distance from the screen to your seating positions (front and main). If your seats are designed in a way that they could be easily shifted as per your preference, you may choose your screen size accordingly. For further steps, make a note of your distance and pull out your calculator. 
If you prefer the middle row seat in a commercial theater, and your screen is 16:9 ratio, you are more likely to find a 30-degree field of vision perfect. For a 2.40 widescreen, a 42-degree field of vision is better. To understand more in detail, talk to our experts. 
A few points you must keep in mind while choosing the right size of your home theatre screen –
Find the screen that fits in your room

4K has made bigger screens popular

The easiest and foolproof way to find the right size is by calculating/referencing where you prefer to sit in a movie theatre

Take measurements and calculate accordingly 
As we mentioned in the beginning, choosing the right screen can be a complex process especially when you are relatively new to the understanding of these aspects. However, once you have chosen the right size, the viewing experience you will receive is quite unparalleled. Therefore, to make it easier for you, we are here to help you understand and pick the right elements for your home theatre. Talk to our experts at +91 77188 80150