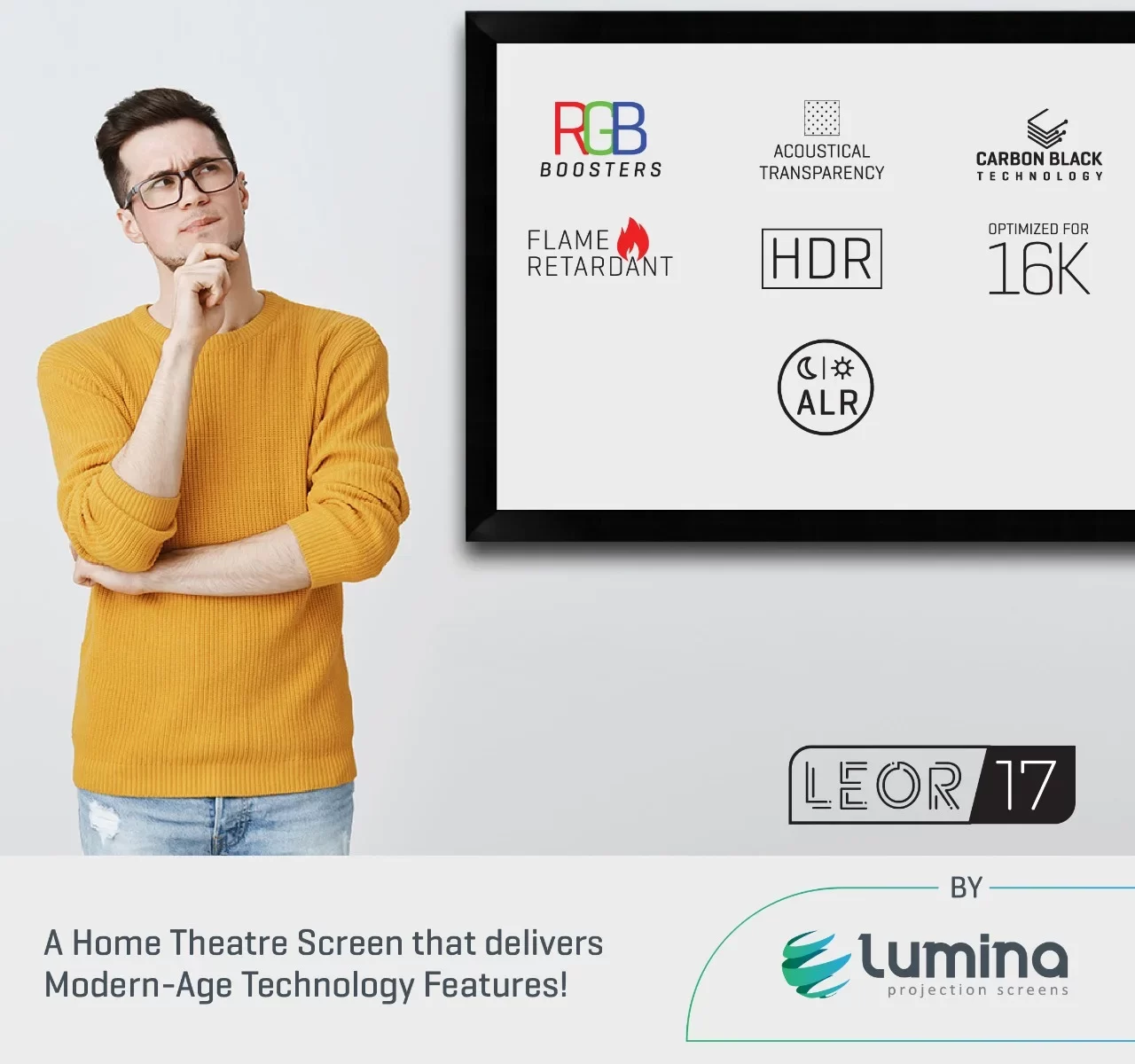 We, at Lumina Screens, know that every household is different and so are their choices.
What remains constant is the desire to have a home theatre that makes you experience the same vibe as the big screen in your favorite movie theatre.
A home theatre that makes you feel you're in a cinema hall and not at home.
We work constantly towards creating such experiences for you.
One of the screens at Lumina that was invented and evolved with the same intention is Leor 17.
Let's get to know what Leor 17 stands for and how it is delivering that incredible experience for many consumers like yourself in the market.
Leor 17 is one of the most premium projection screens available in the market that delivers modern-age technology features.
It's an ambient light-rejecting optical screen with the dynamic 1.7 gain surface that significantly helps in improving the visuals by 70%. Yes, by 70%.
How is Leor 17 able to accomplish that?
Leor 17 eliminates the sparkles by featuring a reflective layer that is infused with ultra-fine particles. Along with this, it also eliminates the substrate that consumes moderate ambient light coming from several directions. 
The high-quality black coating and black opaque blackening helps to improve the black level to great extent.
This uplifts the performance of the projection screen be it a day or in the night resulting in an incredible experience for the viewers.
As we stated earlier, our intention is always to serve that theatre-like experience our consumers crave for through our projection screens. To fulfil the same, Leor 17 comes with an ability to present that big-screen picture with its super-high contrast and solid colour saturation.
It is perfectly optimized and compatible with 4k and HDR that comes with special features like:
Acoustically transparent available for the Premium Audio Impact

RGB Boosters

Multi-Layered Screen Surface

Diffusive Top Layer

Peak Gain of 1.7

Perfectly suitable for High Ambient Light Applications

Carbon Black Technology
Let's explore how these features exactly benefit you:
Acoustically transparent available for the Premium Audio Impact
With Woven Acoustically Transparent Screen, it blocks the light from passing through without disturbing the sound and hence resulting in giving you the premium audio experience you desire.
Also, this allows you to place the speakers behind the screen perfectly and make your home theatre set up look neat and spacious.
RGB Boosters
RGB Boosters is again a new technology used in laser projections and is available in Leor 17. 
It adds a whole new level of excitement to your viewing experience by helping you witness the colors in their truest form.
Multi-Layered Screen Surface
The multi-layer surface with ultra-fine particles installed in Leor17 helps to eliminate sparkles as well the ambient light level coming from any direction that may disrupt the visuals.
Diffusive Top Layer
The diffusive top layer doesn't reflect the unwanted light that might peak through from anywhere and rejects it to not spoil your viewing experience.
Peak Gain of 17
The dynamic 1.7 gain of Leor 17 makes your screen brighter by improving the white levels by 70%. This creates an unrivalled experience for you to consume the content presented in front of you in the brightest white, with great contrast and in its raw form without missing out on the real clarity.
Perfectly suitable for High Ambient Light Applications
Leor 17 performs excellently in a high ambient light environment by allowing the light to pass through it. 
Carbon Black Technology
Carbon Black Technology is an advanced projection surface significantly helping in enhancing the black levels.
All of these features combined in one screen is what makes Leor 17 an ideal screen for passive 3D projection.
Furthermore, what makes it the most versatile screen is the fact that the premium fabric used in it expands 5 different layers each one working on giving a unique viewing experience to the audience.
If you're looking for that home theatre screen perfectly compatible with 4K projection & HDR, your search ends here.
If you have any questions regarding Leor 17, feel free to drop them in the comments below and we will be more than happy to help!