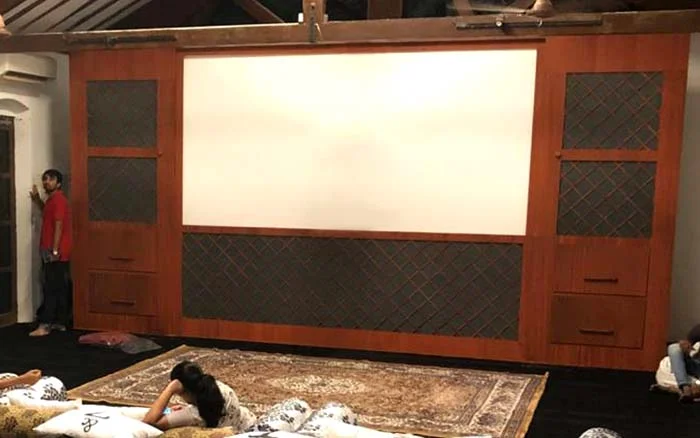 With a rapid increase in the range of streaming services delivering content right to your home, there arises the need of having a perfect setting where you can watch them with superior quality. Lumina Screens provides you with the best visual quality that one can have on a projection screen while sitting at home. Proving the same, Lumina Screens' product was used for the premiere of Netflix Original series 'Typewriter'.
Typewriter is a horror-thriller Netflix Original series written and directed by Sujoy Ghosh. Considering the genre of the series, it requires immersive visuals with utmost clarity so that the viewers could have the experience that this series aspires to provide. Lumina Screens fulfills the requirements and proves to be the best option for the series concerned. Not only that, its compatibility with every sort of home environment makes it the perfect choice of projection screen for personal space.
Having one's own space equipped with the perfect home theatre enriches the experience of watching a series or a film. Netflix comes to a step closer to you with Lumina Screens in front of you. Typewriter's premiere on Lumina Screens is one such example of its unmatched surface quality for home viewing.
Lumina Screens' products provide a varied range of gain distribution in screens which proves to be compatible with different room environments, along with uniform light distribution. Lumina Screens aims for the most comfortable viewing experience a person can have while sitting inside their home. It is a remarkable accomplishment that Lumina Screens is spreading its territory and proving its competence with big names like Netflix choosing it for the screening.
Lumina Screens is a part of Galalite Screens, under GTC Industries, that manufactures projection screens for a wholesome viewing experience at home, corporate offices, or auditoriums. Its vision is to reinvent the home theatre market with a cinema-like movie-viewing experience so that people can have an immersive watch with the comfort of home.