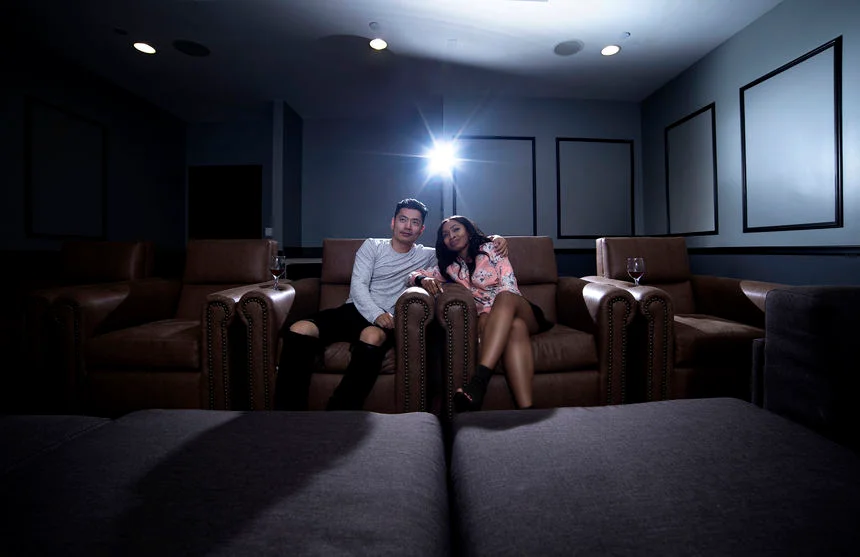 A home theatre addition to your home is not only a great investment in considering the calculation but also brings hours of enjoyment to you and your entire family.
With today's busy schedules, especially for the ones with children, it is hard to coordinate time between school, sports practice, tuition, etc. It is very important to spend quality time with the kids which isn't possible if you drive to a theatre only to wait in a long line for a "sold-out" movie. Then, because you are already there, dropping around 500 bucks (plain estimation for a family of four) to see a movie you really didn't plan on seeing only to be disappointed because the acting or script was poor is a tiring experience — not to mention the 200 bucks you dropped at the snacks corner. For the same amount of money you spend at movie halls for a year, imagine how much you could otherwise spend on something you can actually enjoy without having to leave home and fight the crowds.
In this case, the best solution would be preferring 'Home Theatres' but many consumers are intimidated by this term. They think this means a lot of money, equipment, and cables running all over the place. However, with a little planning, assembling your home theatre can be easy, resulting in a setup that is organized, functional, and visually pleasing. Home theatre is commonly defined as an audio and video equipment set up in your home that emulates the movie theatre experience. In fact, a good home theatre setup may actually provide a more impressive experience that many of those small multiplex cinema screens.
There are at least 10 benefits worth considering home theatres for enhancing your entertainment experience. They are as follows:
Privacy

– It is a private venue for you, your family, and friends. You are in control of what is displayed.
Shared Experience

– It creates an environment for a shared experience and quality time with the family. If you have teenagers, it is a way to keep the kids home and avoid the outrageous ticket prices at local theatres. Also, having a place for your kids' friends to hang out offers the parents the ability to keep a check on the activities of their children.
Affordable Movie-Watching

– The average amount of money a couple spends to see a movie in one of the two major theatre chains including buying drinks and popcorn is just shy of

₹600

for two people. Over the course of a year, a family of four that sees one movie per month would realize the ROI (return on investment) is equal to buying a projection screen that would work well in most home theatres. You can either download the movie on your tablets, mobile phones, PCs or use streaming services like Netflix, Hotstar, or Amazon Prime Video for watching the movie.
Easy Installation

– To set up a basic home theatre setup, you don't need to depend on any third person. It is easy to set up and plug the home theatre systems according to the booklet that you receive while purchases these appliances or through tutorial videos from YouTube.
Instant Entertainment

– If you often find yourself sitting at home during the summer and bored enough, consider a home theatre. All you have to do is pop a downloaded movie or turn on your streaming video platform to enjoy quality entertainment without ever having to leave your home.
Visual Clarity, Enhanced Viewing Experience

– Nothing can compete with the resolution of projection screens, not even the best of Smart TVs available today.
Favourites

– After having a bad day at work, you can always retreat to your private theatre and queue up one of your favorite movies or iTunes playlists and then kick back and relax.
Customization

– Your home theatre can be designed with as many or few options as you can dream up. The latest technology allows for ultimate ease of use and customization of the timbre of the sound, style of theatre, and multitudes of seating configurations. You could tailor the sound system according to your listening preferences ranging from classical music to hip-hop with you at the controls for bass, treble, reverb, etc. of your sound system. You can equip your theatre with the latest in streaming video and music options including automated channel selections, timed on and off and environmental lighting and video controls.



Awesome Gaming Experience

– For those into video games, the home theatre offers an incredible experience, especially with those games incorporating surround sound. Video games like the Xbox One, PS4, and Wii can pull you in and make you feel like you are part of the action. The right equipment can immerse you in the game even further. The larger the screen, the more of the action you can see, and the surround sound gives you the one-up on your enemies by letting you hear exactly where they're coming from.
You Control the Schedule

– You no longer have to rush through traffic to stand in line to buy tickets only to find that show is sold out. Your viewing schedule and time are totally at

your

discretion.