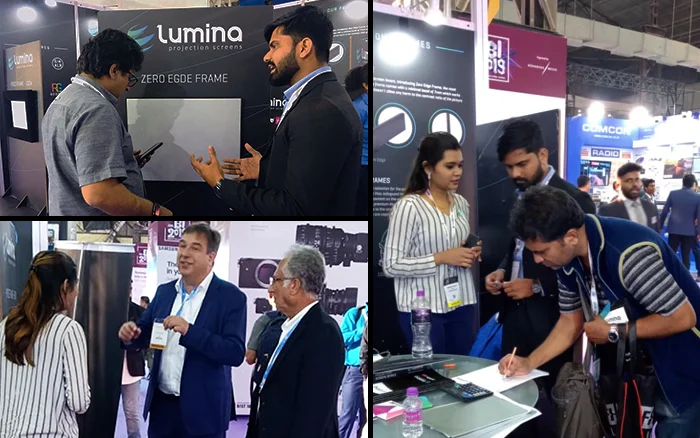 Lumina Screens, the flagship brand of Galalite  Screens unveiled their latest ambient light rejecting projection screens Leor 12 at the 2019 Broadcast India Show.
The premium projection screen comes with the deepest black and fosters better contrast and enhances the visual quality with a remarkable resolution. The screen supports modern HDR technology and is designed to offer a dynamic gain of 1.2 for a riveting movie-viewing experience at home.
"Being South Asia's leading event, The Broadcast India Show 2019 was important for us as it is a strong platform to present the latest innovations and technologies to the local customers as well as the chance to network with industry peers. Taking into consideration the opportunity and increasing growth, this year, we announced our newest range in Leor series at the mega event – Leor 12. It is a multi-layer sliver surface projection screen with an effective gain of 1.2. Leor 12 comes with unique features like superior coating, carbon black technology, acoustic transparency, and RGB boosters which will ensure audiences receive the perfect cinema-like experience in the comfort of their home." said Yusuf Galabhaiwala, Director of Operations, Galalite Screens.
"We wanted to make sure our consumers receive a similar kind of experience which they get at the cinema theatres while watching a movie. So, we have features on the screen like 4k optimization, modern HDR technology, and ALR."Galabhaiwala exclaimed. Leor 12 projection screen also features a reflective layer and a substrate that tackles moderate ambient light thrown from any direction. Leor 12 comes with micro-perforation which creates an immersive audio impact from the speakers placed behind the screen. 
To get more information about our leading-edge projection screens visit: Lumina Screens on Facebook, LinkedIn, and Instagram.
About Lumina Screens
Lumina Screens, a flagship brand of Galalite Screens started in 2015 manufactures projection screens for a smaller-scale viewing experience like home theatres, auditoriums, corporate offices, production houses, and studios. It comes in a various range of screens providing great quality and durability with promising performance, time-bound delivery, and great after-sales service. If you want to improve your way of viewing visual content and need a perfect video streaming experience then, Lumina projection screens would be the right choice for you.