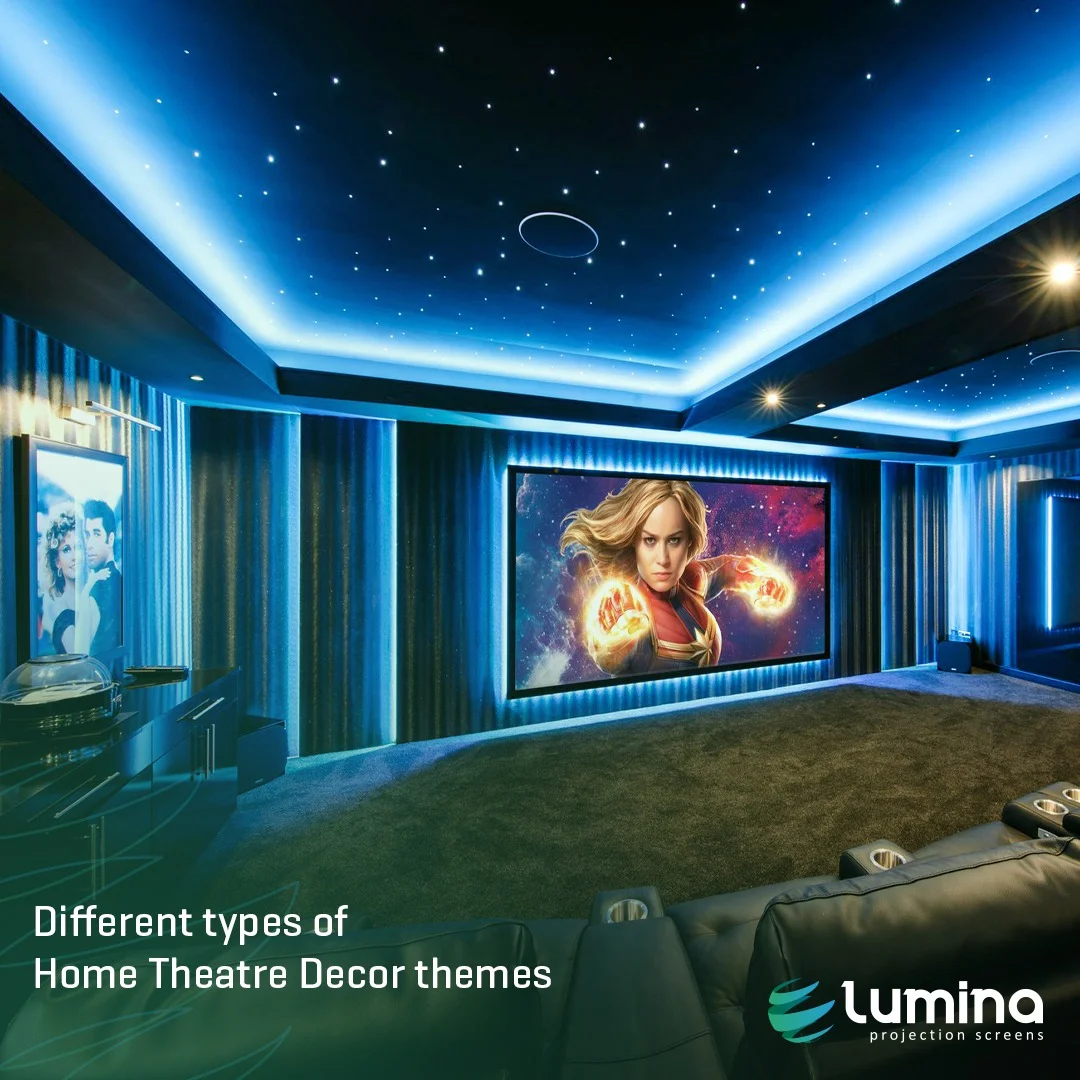 Home theatre decor in the olden days used to be just about pointing the seats of your choice in the direction of the screen. If one felt like splurging then they would also soundproof the walls and dim the lights. However, the concept of a media room has been steadily on the rise. In India, media rooms also double up as family rooms where the family catches up after a long day. This is why the decor has become a vital element for these rooms now. If you are planning a home theatre, here are some ideas you can use for a modern room that meets your needs.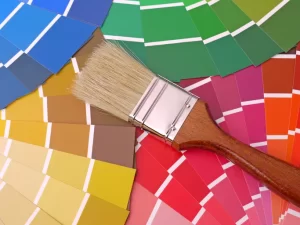 Colour play
Neutrals or solid colours are best suited for a home theatre to reduce visual distractions, adding a pop of colour here and there would not go amiss. Add it to the cushions, curtains, or printed upholstery for a stylish look that does not distract from the action on the screen.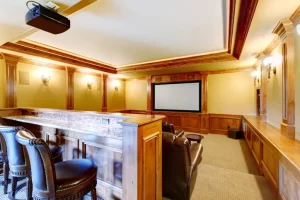 Wooden accents
Nothing beats wooden accents when it comes to a naturally luxurious look. Wooden paneling, artwork, etc add a cozy look to your home theatre while its neutral tones don't distract from the media being screened. A word of advice though, it is best to avoid wooden furniture for the sake of comfort while sitting for long periods of time.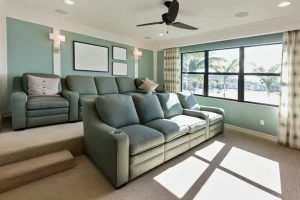 Comfortable seating
One is likely to spend long periods of time sitting in a home theatre, streaming the latest blockbusters or gaming. This makes comfy seating crucial. While it may be tempting to keep recliners, or bean bags as your primary seating arrangement, it isn't the ideal option for a shared family space. A combination of sofas, sectionals, and recliners are your best bet for comfortable seating options. A plush rug for those who prefer to sit on the floor is also a great idea!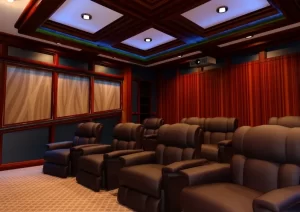 Great lighting
The days of simple on and off lighting are gone. Dimmable lights are in, especially where home theatres are concerned. This will help make the shift from shared family space to dedicated home theatre easier. Stylish wall sconces, LED strips, etc make your home theatre an elegant look and add a luxurious touch. If you wish to not watch your movies in total darkness then an ALR screen like our Leor 1.7 is a great idea.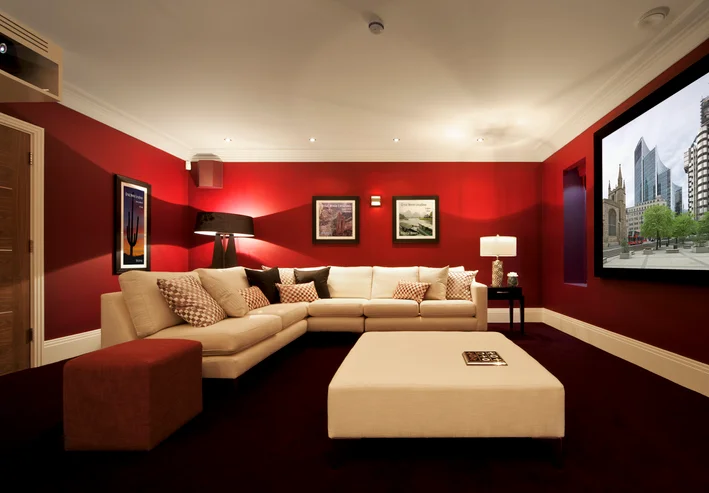 Decor
Retro movie posters or stylish wall art, the options for decor are limitless when it comes to decorating your home theatre. Glass frames should however be used judiciously as the light reflecting off it can be a distraction. The idea is to create a casual space where people come to unwind. 
Good theatre system
While this is not strictly a decor item the need for a good theatre system cannot be stressed enough. After all, it is the major function of the room. Speakers that match your decor, a good projection system, and most importantly, a fantastic Lumina screen is a must for any home theatre. 
So there you have it, smart decor ideas for your home theatre. Which one will you use in your home? Let us know in the comments.