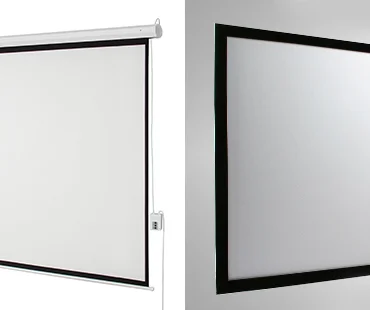 The most demanding factor that everyone requires is to EXPERIENCE the content, no matter what. This factor allows every viewer to get into the visual aesthetic that eventually makes your eyes exhibiting to its very own universe – for every content like movies or series.
The projector screens play a crucial role in giving the demanding visual experience that you basically required and we, Lumina Projection Screens provide a wide range of products in order to give you an immersive experience.
But before that, it is important to know about these screens. There are two major projection screens that are quite popular and used in most places, that is, Motorized Projector Screens and Fixed-Frame Projector Screens.
Motorized Screens
These types of screens are mostly seen either as conference-room screens, and wall-mounted or ceiling-mounted screens that lower on the command, sometimes when the projector gets turned on. The projector screens roll up and down according to your availability to access the content.
They are mainly ceiling-mounted screens which are installed completely above a drop ceiling and it then can be controlled via a wall switch, a remote control, a room automation system or by connecting to a low-voltage trigger port on the projector. A trap door on the bottom of the enclosure hides the screen when it's not in use. There are also cases where some portable floor-standing motorized screens are found, where they rise from the floor rather than dropping down. These are ideally used for staging applications.
They are equally good to do presentations and access videos, but there are mere possibilities of unfortunate events where the motorized screen gets stuck in between to roll down, or to roll upwards, and the cost charges of purchasing and repairing a motorized screen could be annoying for you. Apart from these aspects, motorized screens give a different experience in viewing the content.
Fixed-Frame Screens
The fixed-frame screens are mounted directly to wall space, much like a large flat panel. They are mostly found in movie theatres or cinema halls. The main advantage of fixed frame screens is lower weight comparatively than motorized screens, in other words, they can be easily mounted to any wall space.
If there is an opening behind the screen, they can be used for rear projection. Since the surface of these screens is perforated, the centre left and right channel speakers can be placed directly behind the screen. The perforations enable acoustic transparency without impacting the quality of image noticeably. Fixed-frame screens are extremely popular for the home theatre installations because of the ease in the process of installation.
The only disadvantage of these projection screens is some projectors won't be fit for every wall space. In order to rectify this disadvantage, make sure to find a better one that brightly matches your wall space and environment. And that's why Lumina Projection Screens are at your aid.
Lumina Projection Screens brings various options for home theatre screens that could easily befit your needs and wants. Our main aim is to deliver an enhanced and one-of-a-kind cinematic experience of magnificent visuals that enables you to easily enjoy the depth of your favourite content – like your favourite movies, series, and even sports, for every class and group of people.