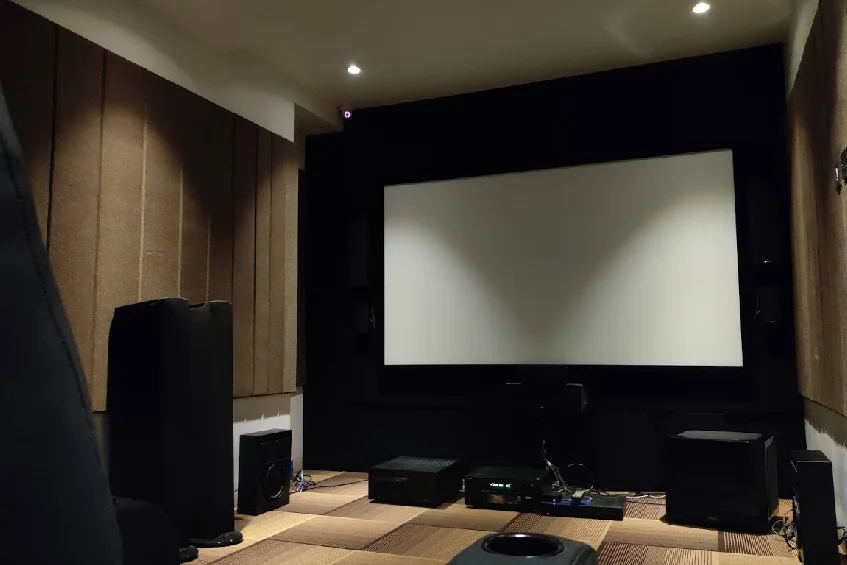 We at Lumina, believe that a projection screen defines more than just a white cloth. It is a sophisticated technical fabric that offers an engaging visual experience. Be it corporate offices, home theatre rooms, exhibitions, or auditoriums. 
The apt choice of a projection screen can make all the difference. For anybody who desires a quality projection experience, the Lumina projection screen is what you should be willing to seek. 
We provide complete display solutions that require no after-sales service and are globally acclaimed in the projection screen market. With Lumina, our customers also receive a convenience advantage as the manufacturing of projection screens is done in India that helps us deliver excellent guidance, on-time delivery, quality products, and promising experience. 
Through this blog, we will guide you through our range of projection screens and their innovative features that make them stand apart from other competitors in the market.
 Let's get started. 
Leor Series 
Leor 12 :

Leor 12 is one of the premium ambient light rejecting screens which improves depth in the image with deepest blacks. The projection screen has the capability of developing better contrast and enhances visual quality with a remarkable resolution. The ALR feature in the projection screen enables superior visual experience be it the day or night setting. 

This flagship multi-layer screen comes with a dynamic gain of 1.2. The screen possesses a reflective layer and a substrate that tackles moderate ambient light thrown from any direction. Leor 12 is also finished with a superior coating which contributes to giving you excellent visual experience.
Leor 17 :

Its higher gain version is Leor 17 which offers a peak gain of 1.7 and also features ALR technology. The projection screen is designed to give you a big-screen picture with super high contrast and solid color saturation in a well-lit room coupled with 70% higher white levels.

It also features a reflective layer with ultra-fine particles to eliminate sparkles and a substrate that effectively consumes moderate ambient light levels from any direction. The superior coating also improves the black level by excellent proportions.
Colour Pro White 
Colour Pro White is a unique projection screen with a nano-optical surface. It is a white surface that is matte in nature. The nano texture finish in this white projection screen provides extremely high matteness. 
The Screen Gain is measured on all equal places across the surface and made sure that it is the same to reduce the loss of light across the surface. Through its power pack features, Colour Pro White offers a precise definition, image color reproduction, and black & white contrast. It is optimized for 16K and performs best in controlled ambient light. 
Accupix Series 
Accupix : 

Accupix is an acoustically transparent front projection screen for flat and curved frame home theatres. It is a woven screen material with excellent color neutrality, HD resolution, brightness uniformity which makes it an excellent front projection screen to use with a bright projector in both moderately lit and dark environments. 

This Acoustically transparent screen offers excellent audio clarity with undistorted audio transparency. The front projection screen has a white surface and comes with a high gain of 1.0 that provides wide viewing angles and optimum visual quality. 

Accupix Pro :

Accupix Pro is a woven, acoustically transparent projection screen material that enables the use of speakers behind the screen. The resolution, brightness uniformity and wide viewing angle make it an excellent choice in dark environments. The front projection screen features Lumina's latest innovation in fabric design SDR, a unique weave pattern that diffuses sound to enhance sound quality and transparency. 

The SDR technology also enables complete opacity to the projection surface when viewed from the front, so the speakers cannot be seen through the screen and the speakers also do not reflect any light through the surface creating a visual distortion. This innovation is best suited for 16K and UHD enabled content.

Splendora Series 

Splendora is a smooth-surfaced projection screen with features like RGB booster, acoustically transparent, 4K optimized, HDR, and flame retardant for best visual experiences.With Splendora series, Lumina provides three variants Splendora 14 which comes with a screen gain of 1.4 and provides excellent brightness with around 40% higher white levels and vibrant colors. 

Splendora 18 which provides the same features with the screen gain of 1.8 including 80% higher white levels and vibrant colors and Splendora 22 which provides a peak gain of 2.2 with around 120% higher white levels and vibrant colors. 
Satin Premium 

Satin Premium is a front projection surface that ensures broad daylight dispersion and spectral uniformity. A widely preferred projection screen for its excellent color production that enhances the viewing experience. 

Lumina's Satin Premium also boasts of long durability and easy maintenance. The premium matte white surface features a screen gain of 1.1 and delivers optimal image performance at the highest resolution. It gives the best HDR clarity in the low light rooms.
Conclusion
If you are looking to invest in a quality projection screen, try to understand what are your requirements and make your buying decision accordingly. To explore our range of home theatre projection screens, visit our website: https://luminascreens.com/ click on "Our Products" tab to know more about the projection screens.