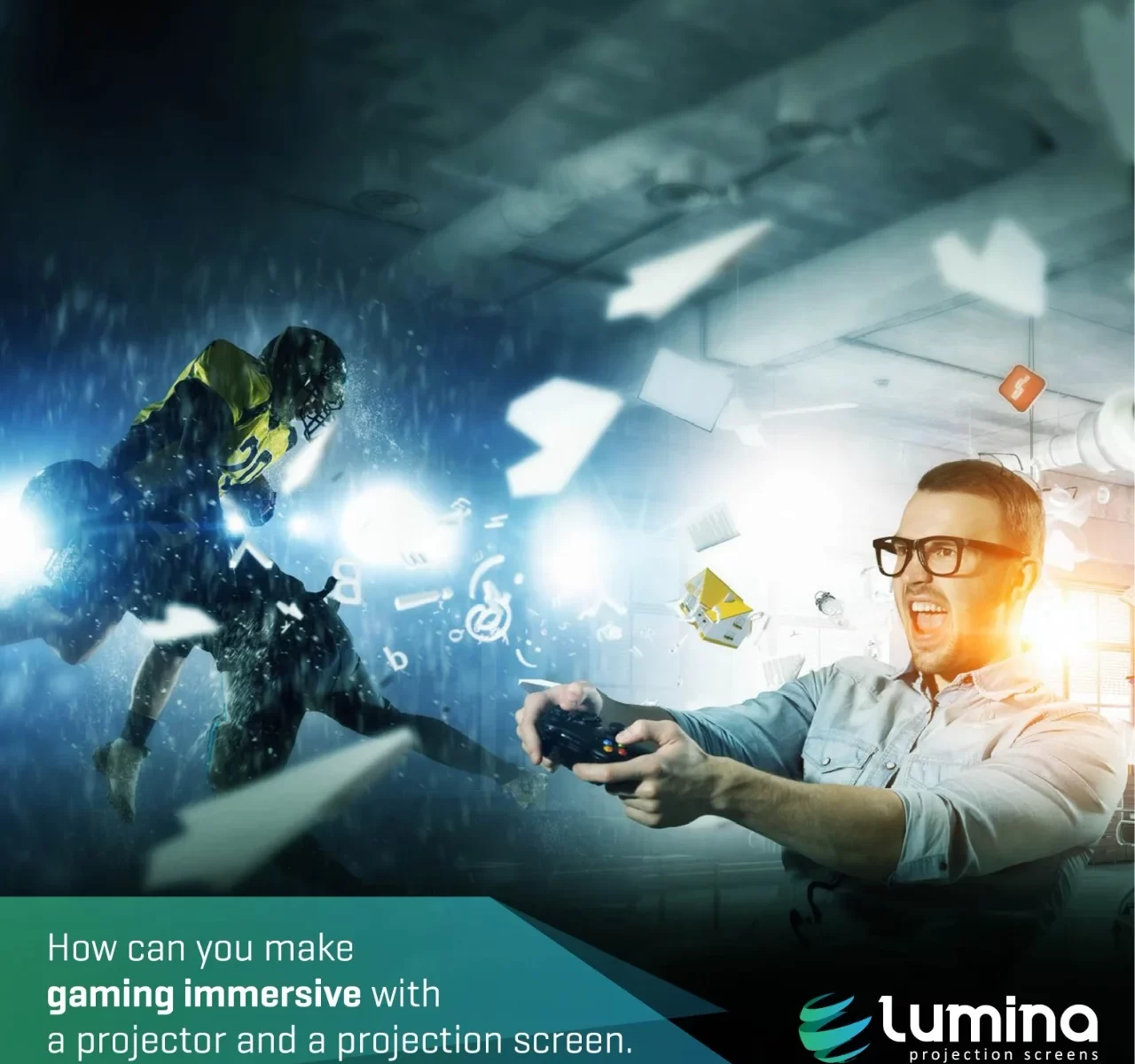 How can you make gaming immersive with a projector and a projection screen
In recent years, gaming has become quite popular and a great social activity. Everyone today enjoys gaming, there is no age barrier and that is why gaming consoles are a huge hit! 
A hardcore gamer or those who have played games for a good amount of years know the potential of games and the high-quality resolutions they offer.
Gamers mostly play on PCs or gaming laptops. But, when they switch to a gaming console, they just stick to experiencing games on a normal TV display. 
The gaming experience can be made far more immersive and can be matched to the compatibility of high-end gaming consoles when you do projector gaming. 
In this blog, we'll give you a step by step guide on how playing games on gaming projectors and a projection screen can make your gaming experience bigger, better, and highly engaging!  
First, let's look at what a gaming projector is.
Gaming projectors are particularly manufactured for gamers. They are optimized to function with top gaming consoles like Xbox and PlayStation. 
They are specially designed to deliver high definition or 4K video and excellent sound quality.
In reality, when matched with a high-quality projection screen, they offer a bigger and immersive visual where one can enjoy games with fine visual details. 
The gaming projectors use LED lasers for the projection of the image onto the surface. The lasers get measured in Lumens, indicating the higher the Lumens, the brighter and clearer the projected image.
Benefits of matching gaming console with a gaming projector & projection screen
For gamers, there are lots of benefits to matching a gaming projector with a projection screen that includes: 
Realistic pictures and graphics (projector and screen offer HDR or 4K picture quality) 

Customizable screen sizes (you get a zoom in/out options to adjust the screen size)

Specifically engineered for

gaming

(these

projectors

are designed to deliver fast responses and image qualities, perfect for

gaming

)
Some of the important elements that can play a huge role in the overall gaming experience. 
Gaming projector
If you have a gaming console like PS4 or Xbox or you are planning to update with PS5 or Xbox Series X and want to experience gaming on a projection screen then you should invest in a good quality 4K projector that can do justice to your gaming consoles and screen. Look out for gaming projectors that can enhance your game resolutions, offer you optimum brightness and great response and refresh rates.
Proper sound and lighting system
Nowadays, games graphics are so advanced they almost give you a real-life feel. So, it makes sense to complement your gaming experience with the same preference to sound and lighting that you'd find in a home theater room.
Impactful surround sound speakers are perfect for the ultimate gaming experience. Or, for those times when you go nocturnal and play games like a night owl, the noise-canceling headsets will guarantee great sound without waking up the rest of the house.
It also pays to invest some time getting the lighting spots right. Blackout blinds can help you avoid glare on your screen while spotlighting can create a tension of a gaming tournament between you and your pals.
The right set of games
You want to make sure you have the apt selection of games to keep you immersed for hours on end.
Collection of games that you can play and play without getting tired is a must. Whether it's the latest instalment of action games or your favourite online game, creating your ideal gaming experience is key to making the most of your games. 
And recognise, if you plan on inviting your friends over for a gaming night, make sure you have a solid selection of games that operate well with multiple players.
Large and high quality projection screen
Now that you have got a 4K projector to project your games, another important element you need to check is the screen on which you will be displaying the projection. So make sure you invest in a good quality projection screen that can offer optimum clarity, excellent colour contrast and actually makes your gaming experience bigger, better and a grand affair for you and your invited friends. 
The large size projection screen also provides a central design feature for the room for a way to optimize space and finalize your layout. And, if you're getting friends over for gaming night, a large projection screen will unite you all!
Proper connection 
To make the most of your gaming experience, it's wise to spend your money on the latest technology. This allows for diverse and interactive gaming. Look for devices that are a perfect match for your gaming equipment to go wireless. You'll be able to build a multi-platform gaming experience without purchasing multiple consoles. Rather than paying for a standard router, go for an advanced Wi-Fi router. You don't want your slow connection to intervene with your ability to play games online or stream in HD.
Conclusion 
To make the overall gaming experience a perfect treat for you and your friends. Look into each aspect mentioned in the blog and apply it to your desired gaming setup. 
Follow our step-by-step guide. Enjoy gaming like never before. Invite your gaming buddies and impress them with high standard gaming experience.                                                                                                                                        
We, at Lumina screens, have screen fabrics that are capable of providing the most immersive gaming experience in your house.
Are you ready to make your gaming immersive with Lumina? 
To know more about our projection screens, you can visit our website: https://luminascreens.com/ 
You can also reach us via our social platforms like Facebook, Instagram, and LinkedIn.