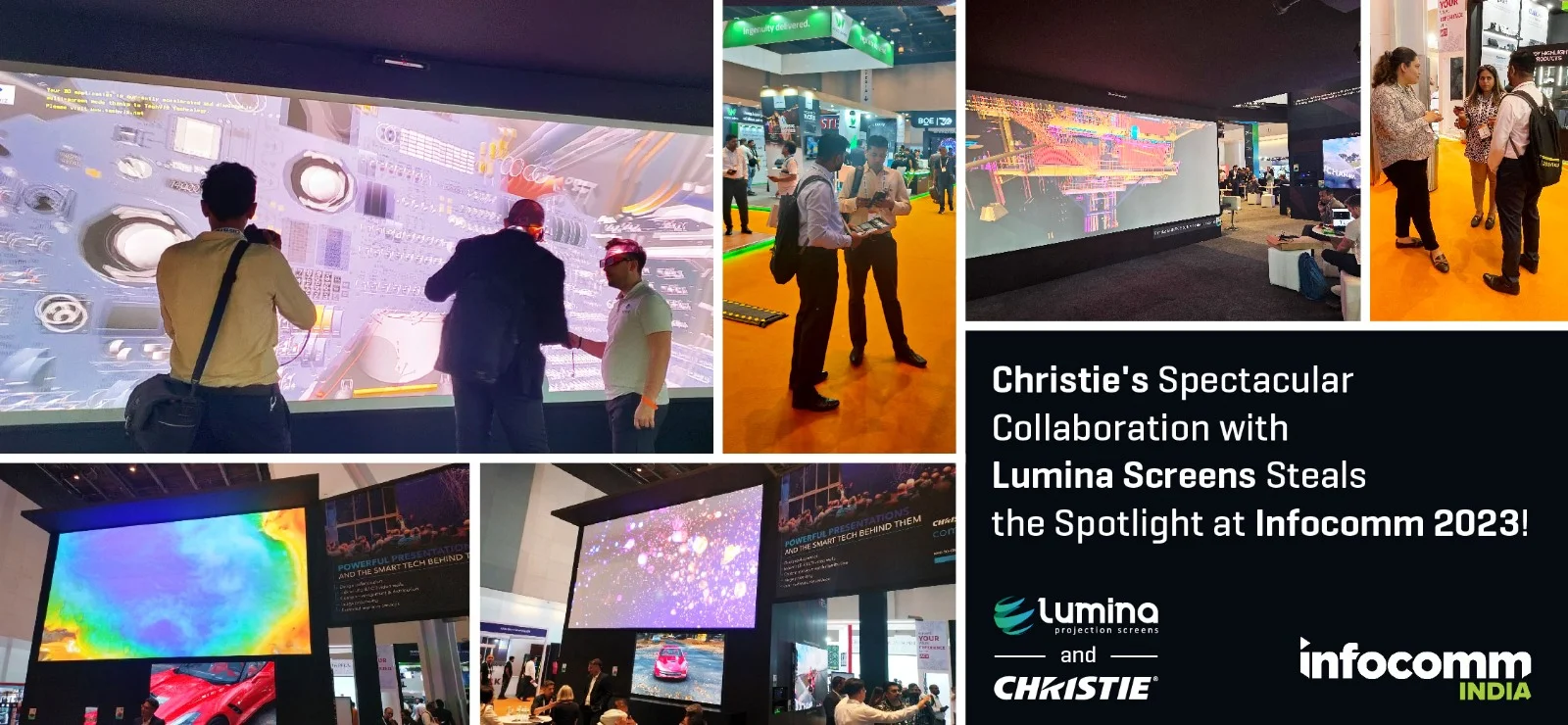 Infocomm: Where Cinematic Magic Comes to Life
In the heart of Mumbai's bustling Jio World Convention Centre, Lumina Screens brought the visuals of cinema to Infocomm. In collaboration with Christie Projectors, Lumina Screens took centre stage at one of the most anticipated tech events of the year. Infocomm became the canvas where Lumina Screens, paired with Christie Projectors, painted visuals that seemed unreal and breathtaking. 
The Christie Projectors Experience
At the Christie Projectors booth, attendees witnessed technology's finest hour. The collaboration between Christie Projectors and Lumina Screens brought visuals to life, making the cinema quality that Mumbai is celebrated for, a reality. The booth at Infocomm became a portal to a new dimension of visual brilliance. 
The marketing team at the Christie Projectors booth was equally enthralled by the partnership. They shared their excitement, saying, "Lumina Screens has elevated the visual experience to a new height. This partnership is about delivering the dream of cinema to everyone, and it's an experience like no other."
Insights from Lumina Screens
Lumina Screens is a home theatre projection screen manufacturing brand backed by Galaite, a brand known as the leader in cinema screen technology since 1959. 
Yusuf Galabhaiwala, Managing Director of Lumina Screens, emphasized, "Our collaboration with Christie Projectors is a significant leap forward in delivering the cinema to your home, ensuring it's immersive and unforgettable."
Pankaj Mohite, a member of the Lumina Screens sales team, shared his insights, "It's not just about technology; it's about making cinematic experiences accessible to everyone. Lumina Screens, in collaboration with Christie Projectors, has unlocked a new dimension in home entertainment."
The Lumina Screens and Christie Projectors partnership showcases their commitment to achieving exceptional visual quality. Together, they brought to life what was once confined to the silver screen, making the dream of cinema a reality in the comfort of your own home. Similar to how Mumbai is the hub of aspiring actors, Lumina Screens and Christie Projectors are the creators who provide the ideal canvas for cinematic excellence. Their partnership was a huge success at Infocomm, leaving attendees amazed and excited to bring Lumina Screens at their homes.