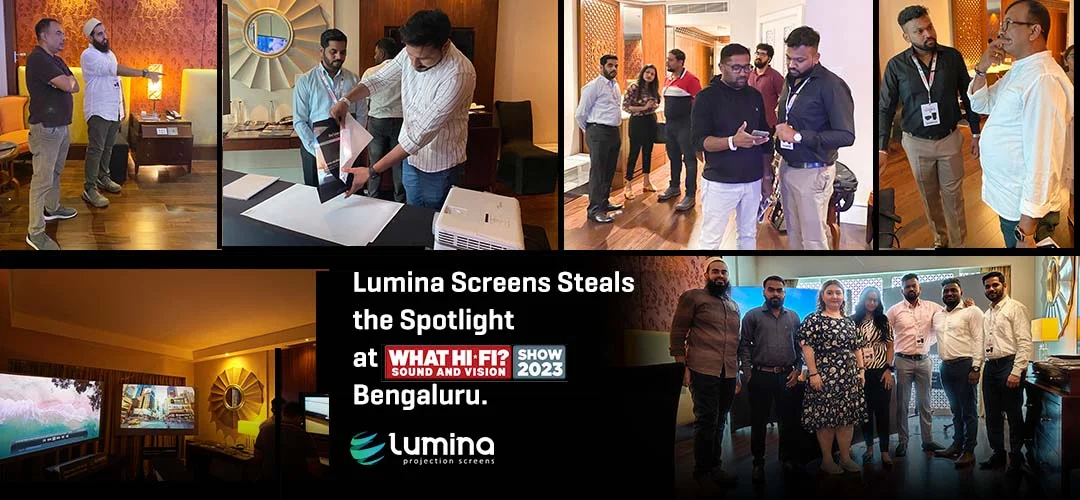 Bengaluru, often referred to as India's Silicon Valley, recently played host to one of the most anticipated events in the audio-visual industry, What Hi-fi. Amidst the excitement and anticipation, Lumina Screens emerged as the undeniable star of the show, captivating the tech-savvy audience with its cutting-edge innovations and immersive experience.
Lumina Screens at What Hi-fi Bengaluru
Lumina Screens setup buzzed with an atmosphere of curiosity and excitement, drawing in a steady stream of visitors throughout the event. The booth's impressive footfall and the level of engagement it garnered spoke volumes about Lumina's growing influence in the AV industry.
The Star of the Show: Leor UST
The Leor UST (Ultra Short Throw) projection screen was at the heart of the Lumina Screens showcase. The audience couldn't help but be amazed by Leor UST's ability to transform any space into a cinematic masterpiece.
Leor UST has a unique lenticular structure integrated into its fabric which enhances image quality by providing increased light-shielding capabilities. With Leor UST, you can immerse yourself in a captivating viewing experience where vivid and immersive visuals are combined with improved control over ambient light, elevating the overall clarity and sharpness of your cinematic journey.
What sets Leor UST apart is its unparalleled viewing experience, offering an exceptional viewing cone of nearly 170 degrees. This means that no matter where you're seated, even in extreme off-axis positions, you'll enjoy optimal visibility and picture quality. 
But that's not all – Leor UST also excels in its Ambient Light Rejection (ALR) performance. It goes beyond ordinary ALR screens by precisely blocking ambient light from above and perpendicular to the screen's surface. This results in delivering vivid, vibrant images while preserving the projector's contrast, even in well-lit environments. Leor UST doesn't just offer a cinematic experience; it elevates it to new heights, no matter the lighting conditions.
Bengaluru's Vibrant Atmosphere
What Hi-fi found a fitting home in Bengaluru, a city known for its tech-savvy populace and innovative spirit. The event's location mirrored the city's dynamic vibe, creating the perfect backdrop for showcasing the latest AV technology. Bengaluru's residents, who are known for their discerning tastes and technological craze, eagerly embraced the event, making it an ideal platform for Lumina Screens to shine. 
Yusuf Galabhaiwala Speaks
Yusuf Galabhaiwala, Managing Director of Lumina Screens, shared his insights on the event and the AV industry's evolving landscape. He noted, "What Hi-fi Bengaluru has been an incredible experience for Lumina Screens. We are committed to giving our customers the best. Our R&D team continuously works on how to bring the cinema to your home. Our vision for the future is to continue pushing the boundaries of innovation and setting new standards for the AV industry."
Pankaj's Insight
Pankaj Mohite, a member of the Lumina Screens sales team, added, "What struck me most was the realization among the people that it's not just the projector that gives off a good image, but the screen also matters. The great response and curiosity from the visitors were truly remarkable."
Beyond Expectations
Lumina Screens presence at What Hi-fi Bengaluru exceeded expectations on all fronts. The overwhelmingly positive feedback and testimonials from visitors underlined the company's commitment to excellence. Attendees left the booth impressed and inspired by Lumina's passion for redefining home entertainment.
Conclusion
In closing, Lumina Screens performance at What Hi-fi Bengaluru has left an indelible mark on the AV industry. Lumina Screens and the team extend their heartfelt gratitude to the city of Bengaluru for its warm reception. As Lumina Screens looks ahead, they invite you to stay tuned for more groundbreaking innovation and immersive experiences that will undoubtedly redefine your home theatre experience.