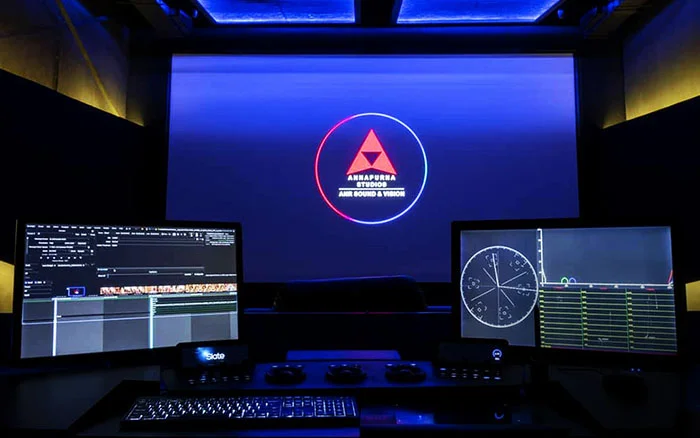 Lumina Screens has been at the forefront of supplying projection screens that are optimum for a small-scale viewing experience. Providing a wholesome feel in limited space has been its target and it aims to fulfill it with sheer competence time and again. Proving its motives yet again, Lumina Screens installed three of its products at Annapurna Studios.
Annapurna Studios is a production house set up at Hyderabad in 1975 which produces Telugu films and television shows. It's one of the earliest production houses set up in Hyderabad that solely served the purpose of producing Telugu films. It was founded by the late actor Akkineni Nageswara Rao. It has produced numerous hit films like Manmadhudu, Rajanna, Super and Mass which featured the Telugu superstar Akkineni Nagarjuna. The production house provides a platform for post-production to various other films and TV series, too.
For the kind of work the studio performs, it needs its requirement of quality and compatibility to be met; and for that, Lumina Screens proves to be the favored candidate. As it is commonly known that production requires excessive editing work owing to which there arises the need for the visual to look as clear as possible. Lumina Screens aids the process of delivering the top-notch visual quality through its flawless projection screen surfaces. Its range of products sure that the room environment doesn't act as an obstacle when it comes to the compatibility of the projection screen.
Having a projection screen set up for various post-production tasks such as screening, editing, sound design, etc. is beneficial in a way because of comparatively bigger projection of visuals that go along with the surround sound. This helps the person working on the cut to accurately minister the visuals and work on it accordingly to the needs. The better the projection screen surfaces are, the better the overall output is. Hence, the color correction, CGI, edits look far better on a projection screen than it could look on a small LED screen.
Lumina Screens aims to provide the people with a perfect visual output at home or working space to give the effect of a traditional cinema theatre experience. With limited space, a person can enjoy or work on any visual they want to without any hindrance.
Lumina Screens is a part of Galalite Screens, under GTC Industries, that manufactures projection screens for a wholesome viewing experience at home, corporate offices, or auditoriums. Its vision is to reinvent the home theatre market with a cinema-like movie-viewing experience so that people can have an immersive watch with the comfort of home.